Since its inception in 1995, the annual ANZAC Day clash between Collingwood and Essendon has become one of Australia's most celebrated sporting traditions.
Millions tune in on April 25 every year to watch two of the AFL's fiercest rivals do battle in front of a packed house at the Melbourne Cricket Ground.
It's not all about football, of course, as the pre-match ceremony honouring the nation's fallen troops is what makes ANZAC Day at the 'G such a special occasion.
But once the Last Post has sounded and the minute's silence is up, it's game on.
Leading online bookmakers run ANZAC Day betting specials every year, along with all the usual match bets, player props, line wagers and AFL exotics.
Let's see what's in store for 2016.
Collingwood vs. Essendon ANZAC Day 2016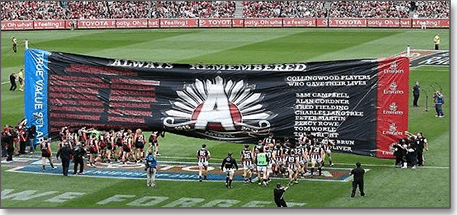 With everything that's happened in the lead-up to AFL 2016, this year's big clash at the MCG could be the most one-sided fixture yet.
Essendon are missing 12 senior players as a result of the club's disastrous 2012 supplements program, which culminated in year-long bans for the 34 past and present Bombers involved.
Among the absentees are club captain Jobe Watson, star midfielder Dyson Heppell, key tall Cale Hooker and 2015 All-Australian defender Michael Hurley.
While the Dons have tried to plug the gaps by recruiting experienced free agents such as Ryan Crowley, James Kelly, Jonathan Simpkin and Matthew Stokes, online bookmakers are predicting a rough season ahead for John Worsfold's men.
Essendon are runaway $1.25 favourites to pick up the fewest wins of any team in 2016, which doesn't bode well for their ANZAC Day ambitions.
But the beautiful thing about big rivalries like this is that anything can happen on the day.
Collingwood aren't tipped to be among the flag favourites this year, with bookmakers grouping them alongside Gold Coast and Greater Western Sydney as $23 outsiders in the 2016 AFL outright betting.
Should the Magpies come into round five with no great form and a few players out through injury, who knows what might happen?
ANZAC Medal betting
The ANZAC Medal is awarded every year to the player whose performance best embodies the ANZAC virtues of skill, bravery, mateship, honour and self-sacrifice.
Much like the Norm Smith Medal for best on ground in the AFL Grand Final, it is one of the hottest footy betting markets of the season.
Four players have claimed the ANZAC Medal on more than one occasion: Sav Rocca (1995, 1998), Scott Pendlebury (2010, 2011), Dane Swan (2012, 2014) and James Hird (2000, 2003, 2004), who is the only man to win it three times.
To date, the award has gone to a player on the losing side just once: in 2001, when Collingwood's Chris Tarrant starred with five goals in an eight-point defeat.
1995 – Saverio Rocca (Collingwood)
1996 – Scott Russell (Collingwood)
1997 – Damian Monkhorst (Collingwood)
1998 – Saverio Rocca (Collingwood)
1999 – Mark Mercuri (Essendon)
2000 – James Hird (Essendon)
2001 – Chris Tarrant (Collingwood)
2002 – Mark McGough (Collingwood)
2003 – James Hird (Essendon)
2004 – James Hird (Essendon)
2005 – Andrew Lovett (Essendon)
2006 – Ben Johnson (Collingwood)
2007 – Heath Shaw (Collingwood)
2008 – Paul Medhurst (Collingwood)
2009 – Patrick Ryder (Essendon)
2010 – Scott Pendelbury (Collingwood)
2011 – Scott Pendlebury (Collingwood)
2012 – Dane Swan (Collingwood)
2013 – David Zaharakis (Essendon)
2014 – Dane Swan (Collingwood)
2015 – Paul Seedsman (Collingwood)
Results and records
1995 – Collingwood (17.9.111) drew with Essendon (16.15.111)
1996 – Collingwood (17.15.117) defeated Essendon (16.9.105) by 12 points
1997 – Collingwood (14.15.99) defeated Essendon (10.10.70) by 29 points
1998 – Collingwood (15.18.108) defeated Essendon (12.16.88) by 20 points
1999 – Essendon (15.18.108) defeated Collingwood (15.10.100) by eight points
2000 – Essendon (21.14.140) defeated Collingwood (15.10.100) by 40 points
2001 – Essendon (15.13.103) defeated Collingwood (14.11.95) by eight points
2002 – Collingwood (9.12.66) defeated Essendon (4.9.33) by 33 points
2003 – Essendon (23.9.147) defeated Collingwood (12.9.81) by 66 points
2004 – Essendon (17.10.112) defeated Collingwood (11.13.79) by 33 points
2005 – Essendon (11.17.83) defeated Collingwood (10.9.69) by 14 points
2006 – Collingwood (15.16.106) defeated Essendon (12.17.89) by 17 points
2007 – Collingwood (12.23.95) defeated Essendon (11.13.79) by 16 points
2008 – Collingwood (23.16.154) defeated Essendon (12.9.81) by 73 points
2009 – Essendon (13.15.93) defeated Collingwood (12.16.88) by five points
2010 – Collingwood (18.12.120) defeated Essendon (8.7.55) by 65 points
2011 – Collingwood (16.11.107) defeated Essendon (11.11.77) by 30 points
2012 – Collingwood (11.14.80) defeated Essendon (11.13.79) by one point
2013 – Essendon (18.13.121) defeated Collingwood (10.15.75) by 46 points
2014 – Collingwood (12.11.83) defeated Essendon (8.12.60) by 23 points
2015 – Collingwood (9.15.69) defeated Essendon (6.13.49) by 20 points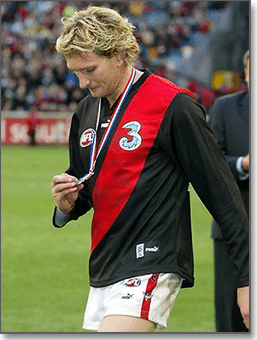 Collingwood – 12 wins (1996, 1997, 1998, 2002, 2006, 2007, 2008, 2010, 2011, 2012, 2014, 2015)
Essendon – eight wins (1999, 2000, 2001, 2003, 2004, 2005, 2009, 2013)
Draws – one (1995)
Most appearances
Dustin Fletcher (Essendon) – 18
Most goals in a game
Saverio Rocca (Collingwood) – nine
Most goals overall
Matthew Lloyd (Essendon) – 36
Most ANZAC Medals
James Hird (Essendon) – three
Highest team score
Collingwood – 23.16.154 (2008)
Biggest winning margin
Collingwood – 73 points (2008)
Highest attendance
94,825 (1995)