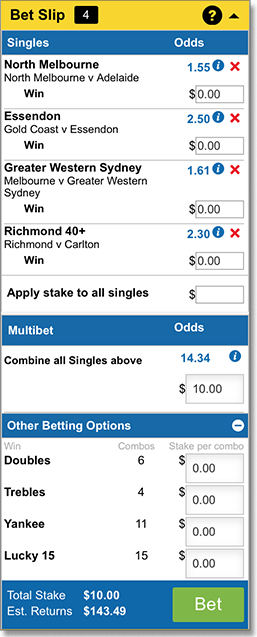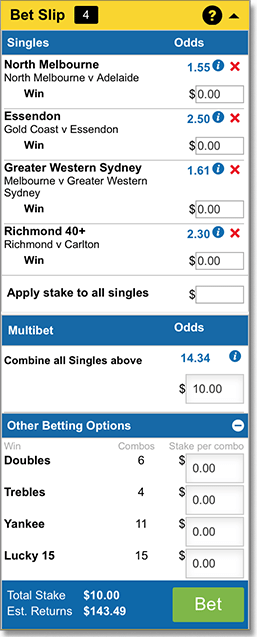 AFL multi bets are among the most popular and enjoyable ways to have a punt on the footy. While they are much riskier than single wagers, the potential rewards are much higher – which is why Australian gamblers love them.
That being said, those who are new to multi betting might find it a frustrating ordeal at first. There's nothing worse than losing out on a huge payoff because you cocked up one or two selections.
We at Gamble.com.au might not have all the answers, but we do have a few handy hints and tips up our sleeves to help turn those missed opportunities into potential bankers.
Best AFL betting sites
There are scores of AFL betting sites these days, but only a handful meet the very highest standards for quality and security. We only recommend online bookies which run certified SSL encryptions, are fully licensed by a recognised regulatory body, and which offer competitive odds and bonus deals for Australian customers.
– CrownBet.com.au
– WilliamHill.com.au
– Sportsbet.com.au
– Bet365.com.au
– Luxbet.com.au
What is a multi bet?
Multi bets, also known as accumulators and parlays, are simultaneous wagers on two or more separate outcomes. Each section of a multi is called a leg, and every leg must win in order for the bet to earn a payout. You can usually select any type of market for a multi leg, but bookies often require that each leg corresponds to a different event (i.e. you cannot have two legs from the same match).
For example, let's say a round of AFL fixtures features the following match odds and line bets:
Match
Head-to-head
Line
Hawthorn

Carlton
$1.25

$5.60
-18.5 ($1.90)

+18.5 ($1.90)
Port Adelaide

Greater Western Sydney
$1.76

$2.50
-13.5 ($1.89)

+13.5 ($1.91)
Collingwood

Essendon
$2.12

$1.86
+10.5 ($1.90)

– 10.5 ($1.90)
If we were to place a standard three-leg multi using these markets, we could take either the match odds or the line odds from each fixture. For instance, we could pick Hawthorn to beat the -17.5 line against Carlton; Sydney to defeat Port Adelaide; and Essendon to defeat Collingwood. However, we would not be able to include two markets from the same match (e.g. Hawthorn to win and Hawthorn to beat the line).
How to place an AFL multibet online
You can compile a footy multi the same way you make any other kind of sports wager online. Log in to your favourite online bookmaker, find the AFL section and choose the markets you wish to bet on. Each selected leg will appear in your virtual betting slip, which is located on the right-hand side of the screen at most desktop bookie sites. Scroll down the betting slip to find the multi betting options, enter your total stake and hit 'Confirm Bet'. That's all there is to it.
How to pick the best AFL multis
As with most forms of real money gambling online, there are a few rules of thumb which will help improve your chances when selecting your AFL multibet.
1. Only bet with a trusted online bookmaker
As we mentioned earlier, some sports betting sites are better, safer and more reliable than others. Always make sure a bookie has all the right credentials before you hand over so much as a single Aussie dollar. Otherwise, it's your own fault if you get screwed over.
2. Shop around for the best prices
Each bookmaker will come up with slightly different odds for each AFL fixture. To make sure you get the biggest possible payout for your chosen multi legs, we suggest opening an account at each of our trusted football betting sites. This allows you to compare prices side by side with ease, so you can be certain you're getting the best bang for your buck before you put any money down.
3. Choose your legs wisely
Of course, the most important part of AFL multi betting is to pick the winners. But there is always the temptation to throw in some long shots in order to improve your payout odds. Experienced punters often like to fill their bet slip with firm favourites, with only one or two roughies or value bets thrown in to fatten up the overall odds.
4. Don't get greedy
The beauty of multi bets is that you can add as many legs as you like and play for enormous sums of money. However, the likelihood of winning a 25-leg multi – even if you pick only short-priced bankers – is extremely remote. Three or four legs is a good place to start, and even the most speculative punters will rarely go above a dozen.
5. Take advantage of AFL multi promotions online
Leading AFL bookmakers will run several betting specials throughout the Australian footy season. These often include cash-back deals where you can claim a refund or bonus bet if your multi misses out by only one leg. This kind of bookie promo is a great way to keep your betting balance topped up even when the results aren't going your way.