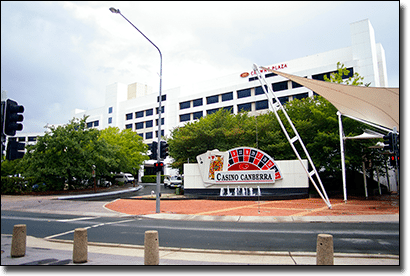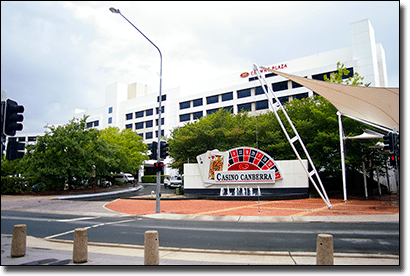 Address: 21 Binara St, Canberra ACT 2601, Australia
Phone: (02) 6257 7074
Opening hours: Open from 12pm to 4am Monday through to Sunday.
If intimate gaming is more your style, you need to visit Casino Canberra. Located in the CBD of the capital city of Australia, it's a cosy complex that you may need to visit soon.
Why? While it is considered one of the smallest casinos in Australia, there are plans for a $330 million upgrade in motion with construction potentially starting in 2016.
What could hold the upgrade back is the fact there are no pokies in the entire complex. This is due to state legislation and despite several campaigns a license just never seems to pass. Unfortunately, as a result, it has been speculated the upgrade won't go ahead if they can't implement pokies machines.
Regardless, Canberra Casino at the time of writing offers an array of table games – as the only table gaming license holder in the city – as well as TAB gaming facilities. You will also find regular poker tournaments in their dedicated poker room.
About Casino Canberra
Casino Canberra was first opened as a temporary venue at the Canberra's National Convention Centre in 1992. In 1994 the temporary site was closed and a permanent casino opened up where it is still located today.
Due to ACT legislation, Casino Canberra is the only legal gambling venue near the capital city and the only venue to hold a table gaming license, as mentioned above. Additionally, the casino does not hold a license to operate slot machines – despite many attempts to the territorial government to change this decision.
The casino doesn't have any theatres or hotels attached either, nor does it offer an entertainment complex.
However, the Aquis Group, controlled by billionaire and Honk Kong mogul, Tony Fung, acquired the casino and announced a $330 million upgrade including the two hotels, as well as bars, restaurants, cafes, and retail stores.
Construction has been planned to commence in 2016, however there has been speculation it won't go ahead if they can't get a licensee for poker machines. If these rumours are false, or they do happen to get a a license, the project has been predicted to finish in 2018.
Canberra Casino gaming
Canberra Casino is considered to be one of the smallest casinos in Australia, with the gaming floor set at 38,000 square feet – compare this with Crown Melbourne's gaming floor of 220,000 square feet.
However, thanks to the lack of pokies there is room for a number of table games and a dedicated poker room too.
Gaming machines
As mentioned above, poker machines aren't banned from Casino Canberra and whether or not the Aquis Group will be successful in overturning this restriction, only time will tell.
However while there are no slot machines, there are a few hundred skill-based machines and video poker machines, too.
Table games
What Casino Canberra lacks in slot machines, it makes up in table games with a total of 39 with varying limits.
Mini Baccarat
Blackjack
Roulette
Rapid Roulette
Pai Gow
Money Wheel
Pontoon
Unlike when you play online, you will need to purchase your chips prior to playing at the tables.
Canberra Casino poker
The dedicated poker room is what draws players to Casino Canberra, thanks to the regular head-to-head poker tournaments with varying buy-in limits.
There are also Turbo events, Sit and Go events, and more. You can find more information on future events on the Casino Canberra website.
Membership at Casino Canberra
If you plan to visit Casino Canberra regularly, or plan to spend big, we advise becoming a member, with the program known as the Senator's Club.
Sign up via the information desk at Casino Canberra reception to be rewarded for playing. Rewards include accommodation (see below for information on where to stay), dinner and drink vouchers, free play, customised gifts, and even special rewards on birthdays and more.
Other facilities at Canberra Casino
There isn't any retail stores, theatres or any hotels within the facility, though for now you can stay at the hotel adjacent to the casino called the Canberra Crown Plaza. If construction goes ahead you can expect onsite accommodation and a retail complex.
There is a restaurant available within Canberra Casino if you wish to dine and play, as well as two large sports bars.
Restaurants: The only restaurant for the time being is Natural Nine – a casual restaurant with a budget-friendly menu, designed by award winning chef Chad Ogden.
Nightlife: Unfortunately, the only nightclub available in the casino complex, Galaxy Nightclub, was closed in October 2015. However, there is a chance a new one, or more than one, will be opened with the upgrade. For now you can busy yourself in two sports bars which screen major and minor sporting events, and make a punt on the state of the art TAB facilities. You can also grab a drink or two from either bars.