Horse racing is big business in Australia and punters absolutely love having a flutter on the four-legged thoroughbreds.
The best thing about horse racing is it never stops. Punters can bet on racing every day of the year, with only Christmas Day barred from racing in Australia, but somewhere, in a different time zone, you can probably still bet on the horses online.
The Melbourne Spring carnival is the big attraction every October/November and is where the big bettors come to play, but with Sydney's Autumn carnival 'The Championships' it's now a jam-packed year filled with great Group 1 racing action.
Serious punters like to bet on sports with many variables, like Baseball, and with so many different aspects figuring into a horse race, it's a punters dream.
Best bookmakers for horse racing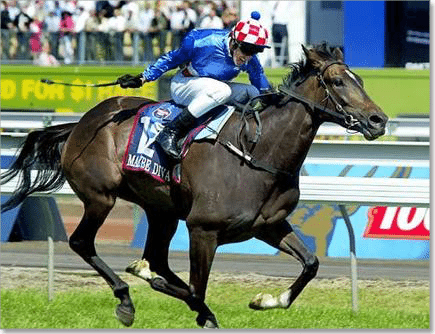 Sportsbet.com.au offer one of the bigger sign up bonuses among our bookmakers. The Australian-based bookmaker is offering a free $501 bet when you sign up and are constantly offering great promotions all year round.
Sportsbet excels in the horse racing market in many ways. They are among the leaders in getting the markets out to the public. Saturday feature racing markets are typically released as early as Wednesday, giving punters plenty of time to get the best value possible.
With promotions such as 'Protest Payout' where even if your winning horse loses on protest, Sportsbet pay out regardless of the result. It's these rewarding and loyal promotions that make Sportsbet such a beloved bookmaker in Australia and internationally.
WilliamHill.com.au is a UK-based bookmaker, with a huge Aussie branch, where it has been making waves in the market for a few years now.
Hill's offer a massive $700 sign up bonus which is the biggest of all bookmakers and punters can use this on either sports betting or horse racing.
If you like a bet on international horse racing, especially in the United Kingdom, then you can't go past WilliamHill as they have the inside knowledge of everything international. They release their Royal Ascot markets very early so punters get every chance to place their bets.
CrownBet.com.au is relatively new to the market and with a sign up bonus of $400, punters should have no problems signing up with this Australian-based bookie.
The Crown-owned bookmaker is a trusted brand in the casino and horse racing industry and with an easy-to-use website interface, CrownBet is a must-try for all horse racing bettors.
The best thing about CrownBet is they aren't afraid to accept a big bet and they generally offer more than competitive odds, especially for the favoured runners. If you look across all Australian bookmakers, CrownBet will provide a good and fair price.
Types of online horse racing bets
It doesn't matter if you're an experienced punter or a novice, betting on horse racing is simple and there are numerous ways of making it fun and profitable.
The standard bet types are as easy as clicking on your runner and adding it to the online bet slip; these include win, place, quinella and trifecta.
To place a win bet with an online bookmaker all you need to do is sign up, log in, select which runner you think will win the race and click on it.
This will add that runner to your bet slip which will commonly be either on the right hand side of the page, or the top. Punters then add the amount they want to bet and click confirm – your bet is good to go.
If you want a place bet, that option will be on the right side of the win bet column. Place bet odds are smaller compared to win bets because of the increased likelihood of a place bet cashing.
For quinella and trifecta bets, punters must select more than one runner which can be difficult if you're not used to the online format.
For quinella bets, click on 'Quinella' under the exotic tab. Select all runners in a boxed (runners can finish in any order) quinella and enter the amount you wish to pay.
Trifecta betting is when you need to select the first three runners home. Exotics – Trifecta – select runners and if you want more than three runners, click the % bet option and enter the amount you wish to pay.
Punters can also bet from race to race on such options as doubles, trebles and quaddies. In order to win from a double, you must select the winners of two consecutive races, three for trebles and four for a quaddie.
The quaddie is an extremely popular betting option in Australia, due to the massive potential payouts – especially on Victorian racing.
Most Saturday's the quaddie pool will be in excess of $200,000 and during the Melbourne Spring carnival, the quaddie pool will reach into the millions. What does this mean for you? It doesn't matter how big the pool is, you can win it all providing your selections win and no-one else has selected it.
Terminating quaddies are the best as they must go, so you could have a small percentage bet, but if you're the only live ticket at the end of the day, you will the entire pool.
Exotic horse racing betting options
There are plenty of exotic betting options available to bettors, in particular betting on jockeys and trainers' premierships.
Betting into premiership markets is a good way to make your money go the distance. The horse racing season starts on August 1, so you know you're getting your value when betting on this option. An example of a premiership market looks as follows.
NSW Jockeys' Premiership market:
Hugh Bowman – $2.50
Blake Shinn – $3
James McDonald – $4
Brenton Avdulla – $8
Tommy Berry – $10
Tye Angland – $26
These betting options are popular throughout the racing season, but especially nearing the end of the season when the premiership is on the line.
The bookmakers are always quick to frame a 'specials' market when needed. In the past they have given punters the chance to bet on the sale price of a Black Caviar foal, how many wins an international jockey will win in the Melbourne Spring carnival, and any other option that appeals to the masses.
To find these exotic betting markets, most bookmakers will label them under 'specials' in the horse racing section. Head there to find the latest in horse racing exotics.
Futures and fixed odds betting
The most common question asked by punters is to differentiate futures and fixed odds.
Futures betting is where punters can bet on a race months in advance. The odds will be increased, but if your horse doesn't make the final field, you lose your money.
There are no refunds in futures betting, which makes it tough, but if you think your runner has a good shot at making the field, then you will be getting much better odds in the futures market.
Fixed odds betting is where the final field has been confirmed and so has your price. If your selected runner is paying $8 on the fixed odds market, that is the price you will receive, regardless if that price increases or decreases on the tote.
The best thing about fixed odds betting is if your horse is scratched, you will get your money back. Deductions apply when scratchings occur.*
The most common futures market is for the Melbourne Cup. With so many local and overseas horses nominated, if punters can find a horse slipping under the radar, the payouts can be huge.
Whilst the futures market doesn't attract the big punters in most cases, there is nothing wrong with throwing down a cool $5 bet on a horse paying $1000 and getting involved.
Biggest races to bet on
The Melbourne Cup is the biggest race in Australasia, not for the quality of the horse, but the prize money and stigma surrounding the "race that stops the nation."
Run over 3200 metres, the Melbourne Cup takes place on the first Tuesday in November and it generates the biggest betting pools of any day in Australia. The pools reach well over $1 million which means horses that would typically pay $4 will most likely drift out to $6.
The Melbourne Spring carnival as a whole has very big fields, which gives every type of horse racing punter a good chance to make a profit.
During the carnival, the Cox Plate and Caulfied Cup are also run. The Cox Plate is the best weight-for-age race in the world and it is held every October at Moonee Valley in Melbourne.
Along with the Caulfield Cup, the Cox Plate is a key lead-up race to the Melbourne Cup and most bookmakers offer exotic markets where punters can pick one horse to complete the double or the rare treble.
Another major carnival is "The Championships" at Royal Randwick. The two-week carnival features a plethora of Group 1s held over two consecutive Saturday's in April and features one of the biggest races in the world.
The Group 1 Doncaster Handicap is considered as one of the toughest mile (1600 metres) races in the world and attracts a truly international field. Punters can bet on The Championships futures market at all of our bookmakers.
You will struggle to find a Saturday in Australia that doesn't feature a serious horse race. The season starts in August and the months of September through to November are all about the lead in to the Melbourne Spring carnival.
It's not all about the staying horses, however, as the sprinters get their chance to show their best throughout the carnivals all year round. The likes of Black Caviar and Lankan Rupee have graced the tracks in recent times and every year there are new 'boom' horses that take Australia by storm.
Horse racing guides