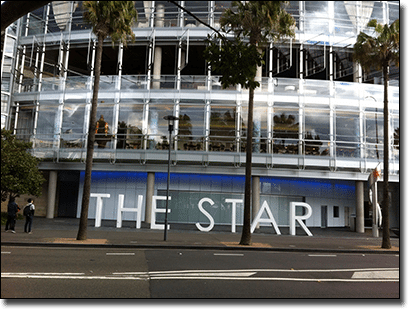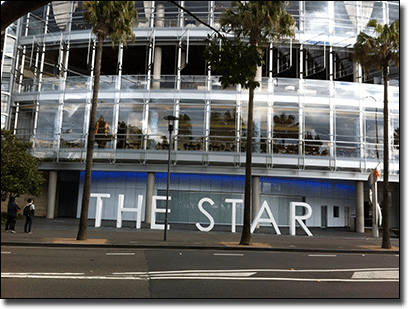 Address: 80 Pyrmont St, Pyrmont NSW 2009, Australia.
Phone:1800 700 700
Opening hours: The casino is open 24 hours a day, seven days a week.
The best, and at the moment the only real land-based casino in NSW, is The Star Sydney Casino and Hotel. With incredible views of Darling Harbour and gambling facilities to keep you entertained for hours, The Star is thought to be one of the best casinos in Australia, though Melbourne's Crown Casino edges it out on overall popularity. Regardless, it still offers fine food, excellent entertainment options, and most importantly premium gaming facilities.
About Star Sydney Casino
In 1994 The Star Casino, known at this time as Star City Casino, obtained a temporary license to operate and a year later it was opened as a temporary casino.
In 1997, The Star opened as a permanent casino and has been operating ever since. However, it has undergone renovations that has amounted to $870 million. Plans for the facelift kicked off in 2009 with the budget set at $475 million, just over half of what it ended up costing.
The renovations included a new glass entrance facing the harbour and another drop-off zone on the harbour side of the casino. It opened in 2011 under a brand new name 'The Star', though it wasn't completely finished until 2012.
It has since operated as The Star and offers an array of gambling facilities to suit any style of player.
The Star Casino gaming floors
The two gaming floors that cover 104,450 square feet includes both a standard gaming floor with low to medium table limits, and a VIP gaming floor for high rollers with high stakes table limits.
The high roller area is known as the Sovereign Room that is invitational only with high table limits up to $75,000. There is also another area here called the 'Inner Sanctum' that offers even higher stakes than the Sovereign Room of up to $500,000, and is also invitational only.
What's more is that there has been yet another VIP room added known as the 'Vermillion Room' and it too requires an invitation to enter and is actually considered to be the most exclusive out of them all.
The main gaming floor, on the other hand, is split up into three areas including Electronic Gaming, Table Games, and Poker.
Electronic Gaming
The Star is limited to 1500 electronic gaming machines due to legislative reasons, and they have reached this limit with the majority being slots, including the classics, modern video poker machines, as well as progressives. However, there are also electronic bingo and roulette machines available too.
Table Games
The Star offers approximately 200 table games with low to medium table limits from $5 to $10 and include both traditional and unique variants.
Blackjack
Baccarat
Roulette
Pontoon
3 Card Poker
4 Card Poker
Caribbean Stud
Craps
Pai Gow
Sic Bo
Big Wheel
There have been additions that haven't done as well as the titles listed above, including Two Up, which was available up until 2003, as well as 3 Card Baccarat, and Double Chance.
There are also two areas open specifically on the weekend known as the the Rock Lilly Pit, which is open every Friday, Saturday, and Sunday nights, offering 19 low limit table games with a backdrop of live music, as well as the Cherry Pit, which offers eight table games with a cocktail bar and a stunning backdrop of Darling Harbour, making these the perfect social gaming areas.
Star Poker
While poker was listed above in the array of table titles offered at The Star, we wanted to make note of the dedicated poker room, located on the main gaming floor.
There are 20 poker tables within the poker room that operate 24/7 and an array of tournaments are offered here regularly. The poker room also plays host to the Australia New Zealand Poker Tour.
Absolute Rewards
This is a must if you are a regular of the Star or plan on spending big. The Absolute Rewards program is The Star's loyalty program that sees points accrued every time you play. You will be rewarded in accordance to the amount of points you earn and you will be taken care of if you are a big spender. Additionally, you will be able to enter prize draws where you can win holidays, cars, and cash prizes.
Simply see the staff at the information desk to sign up.
Entertainment at The Star
For the socialite in you there are also an array of dining options, as well as bars and a nightclub to dance up a storm in.
Bars: There are eight bars including the Sky Terrace, which is open from Thursday nights to Sunday nights that offers cocktails, DJs, and more, as well as the 24/7 Sports Bar that offers a huge 34 square metre LED screen to watch main sporting events and 50 LCD televisions to view racing and other sporting events. Paperless TAB machines are also offered in the Sports Bar.
Event Centre: The Star is also home to a magnificent 2000 seat Lyric theatre that hosts some of the best International performances, concerts, musicals, opera, ballet, and much more.
Nightclubs: There is only one nightclub at The Star, but it covers 20,000 square metres and offers a capacity of 1000+. Featuring three different areas with music to suit everyone, the Marquee has seen popular artists such as Avicii and Havana Brown grace the floors. There are also VIP tables available, as well as bottle service.
Restaurants: There are 16 restaurants located around the complex including fine dining, such as the infamous Momofuku Seiobo, to casual dining, including the Garden Buffet or food court, so you're bound to find something you will like.