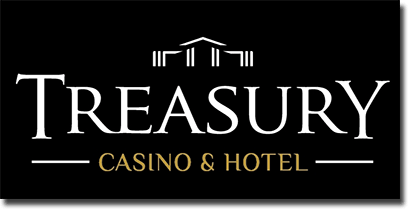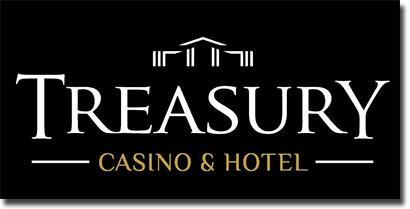 Address: Corner of George Street and Elizabeth Street, Brisbane CBD
Phone: +61 (07) 3306 8888
Opening hours: 24 hours 7 days a week (closed only on Christmas Day, Good Friday and Anzac Day)
Dress code: clean, neat and tidy appearance required at all times, with a minimum standard of dress sandals after 6PM
The Treasury Casino is located in an exquisite building with a long history, proudly serving as Brisbane's one and only 24/7 entertainment precinct. A major drawcard for tourists and Brisbane residents alike, The Treasury provides a sophisticated destination to indulge in a range of casino games, with multiple dining and drinking venues and a world class five-star hotel. The casino is within easy reach to Brisbane's major sites and easily accessible via public transport, with ample parking available. Visitors to the Treasury get to enjoy the picturesque location within the city's Queens Garden, making it a great destination for an elegant night out.
History of Brisbane's Treasury Casino
The Treasury Casino first opened its doors in 1995, but the building it is housed in has a much richer history. The venue got its name from its position within the old state treasury building, which was once a site of a two story military barracks before construction of the government treasury building began in 1886 and underwent two more stages of construction in 1922 and 1928. The design of the building is inspired by 16th Century Italian architecture and as a heritage listed site, it retains its historic grandeur to this day.
The Treasury Hotel was constructed in the nearby old Lands Administration Building which was first built between 1885 and 1905. Between 1905 and 1930 the Lands Administration Building served as the Queensland Art Gallery and also held the offices of the Queensland State Premiers up until the early 1970's. The building remains the finest example of Edwardian Baroque architecture and design you'll find in Queensland.
In the early 90's both buildings were leased by Jupiter's Limited and underwent a huge heritage conservation project before opening doors to the public in 1995. Over the years over $57 million has been spent on restoring and maintaining the historic assets of both buildings. Today The Treasury Casino & Hotel Brisbane is owned by ECHO Entertainment Group.
Gaming at the Treasury Casino
The three gaming floors at the Treasury are sprawling and elaborate, catering to the needs of everyone from high rollers to newbies just wanting to have some fun throwing a few bets around. Fans of the pokies have access to over 1,300 electronic gaming machines, including electronic Vegas Star Roulette, Vegas Star Baccarat and Vegas Star Sic Bo.
There are 80 gaming tables to choose from, offering the following classic casino games along with some Treasury Casino exclusives:
Roulette
Blackjack
Craps
Sic Bo
Caribbean Stud Poker
Texas Hold'em Poker
Mini Baccarat
Rapid Roulette
Treasury Wheel
Treasury 21
You'll also find a dedicated poker room hosting a range of cash games and poker tournaments suited to the serious poker players from 10AM daily. Tournaments include The Bounty Hunter, Deep Stack, The Hungee Texas Hold'em, Super Deep Stack Satellite, Super Deep Stack Satellite Texas Hold'em and Mega Texas Hold'em Satellite.
VIP players and loyalty rewards at The Treasury
The Treasury goes out of its way to ensure VIP players are well looked after, with four exclusive VIP gaming rooms available depending on the level of loyalty status:
The Club – exclusive to Pearl Tier members and higher
The Suite – exclusive to Pearl Tier members and higher
The Sovereign Room – exclusive to Absolute Black members and higher
The Sapphire Room – exclusive to Red+ Tier members and higher
These private rooms are lavish in nature and offer the most opulent of gaming experiences, with higher betting limits than you'll find in the public casino. VIP rooms also offer luxury services like complimentary drinks and buffet access.
To gain VIP access you need to join the Treasury's loyalty program where you work your way up through membership tiers by earning points every time you spend money at the casino. Signing up is easy and can be done at the Absolute Rewards desk by filling out a quick application form and providing some photo ID.
A big plus is you can also earn points for money spent at other ECHO Group Casinos – Jupiter's Casino on the Gold Coast and Star Casino Sydney. Points can be earned on gaming, accommodation and dining, and membership will also award you access to a range of other discounts and promotions across the ECHO Group properties.
Treasury Casino accommodation
Visitors to Brisbane or locals wanting to make a night of it can choose to stay at one of two heritage listed properties within The Treasury – the Treasury Heritage Hotel's Land Administration Building which overlooks Queens Park, or the Treasury Casino building at the top of Queens Street Mall.
There's 128 unique rooms all up, all offering an air of old-world sophistication and class with all the modern amenities and comforts you'd expect from a five-star hotel. The hotel concierge offers dedicated services like limousine service, valet parking, 24-hour room service and express laundry services while guests can also access a full business centre, gym and sauna.
Dining and entertainment services
The Treasury caters to all tastes, from fine dining to casual snacks. You can choose from these varied bar and dining options:
Restaurants: The Lab, Fat Noodle, Kitchen at Treasury, Ryan's on the Park, Marco Polo, Bean Counter and Bite.
Bars: The Kitty, Stephen's Lane, Ryan's on the Park, Apache Cat TAB Bar, LiveWire and Centre Bar.
If you're looking to watch a sports game on the big screen, listen to some live music or bust a move to a DJ set, LiveWire and The Kitty are the places to be. The casino is also within close proximity of the Queensland Performing Arts Centre if the theatre is more your thing.