WHETHER you're golf obsessed, or your knowledge of the game extends to Adam Sandler movies, every one has to start somewhere when it comes to betting on the sport.
And you don't have to be Happy Gilmore to enjoy it. While you don't exactly have to be an athlete to play the game, technique, skill and plenty of mental fortitude are a must.
Tournaments across the world offer myriad betting options for punters to sink their teeth into. And, let's face it, the game can get a little boring at times, so a little money riding on the result can certainly enhance your viewing experience, keeping you on the edge of your seat as the man or woman you backed tees off, or putts for birdie.
Here at gamble.com.au, we love nothing more than a relaxing hack around the local fairways and greens. But we also love a bet on our favourite player. So here we've put together a handy, user friendly guide to wagering on the game, so you hopefully won't need a mulligan on your hard earned cash.
Best bookmakers to bet on golf with
Before you tee off on your golf bet, you'll need a course steward to take care of your wager.
We've hit the links of the interwebz and come up with the best online bookmakers to take care of you.
Hit your drive close to one or more of these guys and you will be looked after in the club house.
Crownbet.com.au
WilliamHill.com.au
Sportsbet.com.au
Bet365.com.au
Luxbet.com.au
PalmerBet.com
Popular bet types for the sport of golf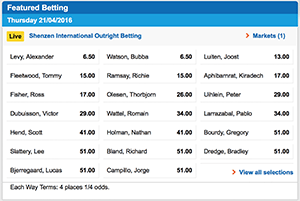 Tournament winner: Self explanatory really. You need to pick the player who will win the tournament. It sounds simple in theory, but good luck negotiating that minefield.
Head to head: This one pits two golfers head to head. Who will shoot the lower score?
Leader at end of day: Another one that is self explanatory. This one is as it sounds, you have to be on the clubhouse leader at the end of a given day of the tournament.
Three ball: Who will shoot the lowest score out of three players, pitted against each other by the bookie.
Player props futures: Usually offered on the best players in the sport. sportsbet.com.au offers odds on how many major tournaments Aussie world number one Jason Day will win.
Tips for betting on golf
Betting on golf can sometimes be like trying to find a needle in a haystack. And that is what makes it both fun, but also difficult.
Only use disposable income: Pay the bills first, bet on the course later. It's more fun when you can afford to lose.
Find the underdog: While the rolled gold stars like Jordan Speith and Jason Day will always be at the top of the betting markets, make sure you scroll down to find a bargain. Is someone playing on their home course? Have they been in form and getting closer to a win? You can find a new star every tournament. If you're smart your money will be on him.
Multiple bets can pay: You'll obviously have your favourite golfer for a tournament, but when you're hunting those underdogs, you can get odds of $30 or $40 or more. A little bet on them can go a long way.
Major tournaments
Like tennis, golf has four major tournaments that stand above all others.
April – Masters Tournament (weekend ending second Sunday in April) – hosted as an invitational by and played at Augusta National Golf Club in the US state of Georgia.
June – US Open (weekend ending with the third Sunday in June) – hosted by the United States Golf Association (USGA) and played at various locations in the United States.
July – The Open Championship (weekend containing the third Friday in July) – hosted by The R&A, an offshoot of The Royal and Ancient Golf Club of St Andrews, and always played on a links course at one of ten locations in the United Kingdom.
August – PGA Championship (third weekend prior to Labor Day weekend in the USA) – hosted by the Professional Golfers' Association of America and played at various locations in the United States.
World rankings
So who are the best of the best in today's golf?
Look no further than the world rankings, compiled on April 18, 2016.
1 Jason Day (Australia) 12.43
2 Jordan Spieth (U.S.) 11.61
3 Rory McIlroy (Britain) 9.20
4 Bubba Watson (U.S.) 8.37
5 Rickie Fowler (U.S.) 7.63
6 Henrik Stenson (Sweden) 7.58
7 Adam Scott (Australia) 7.07
8 Dustin Johnson (U.S.) 6.80
9 Danny Willett (Britain) 6.40
10 Justin Rose (Britain) 5.94
11 Branden Grace (South Africa) 5.47
12 Louis Oosthuizen (South Africa) 4.94
13 Patrick Reed (U.S.) 4.92
14 Hideki Matsuyama (Japan) 4.68
15 Sergio Garcia (Spain) 4.37
16 Brandt Snedeker (U.S.) 4.27
17 Zach Johnson (U.S.) 4.08
18 Brooks Koepka (U.S.) 4.00
19 Phil Mickelson (U.S.) 3.93
20 Charl Schwartzel (South Africa) 3.84
21 J.B. Holmes (U.S.) 3.83
22 Kevin Kisner (U.S.) 3.70
23 Jim Furyk (U.S.) 3.65
24 Paul Casey (Britain) 3.60
25 Kevin Na (U.S.) 3.31
26 Jimmy Walker (U.S.) 3.30
27 Matt Kuchar (U.S.) 3.24
28 Bill Haas (U.S.) 3.21
29 Russell Knox (Britain) 3.19
30 Rafael Cabrera-Bello (Spain) 3.18
Golf's greatest players
Tiger Woods: The man who changed the game. The Michael Jordan of golf. While he did have a remarkable fall from grace off the fairways, Woods is arguably the greatest golfer of all time.
Jack Nicklaus: The one they always bring up when arguing about Woods, the Golden Bear has won more major titles than any other player, with 18.
Ben Hogan: Had he not had his career cur short by a terrible car accident, Hogan might just have been the greatest of all time. Nine majors and 62 career wins don't do justice to the way he used to complete destroy his opponents and master the toughest courses.
Bobby Jones: Won 13 majors, including a grand slam of all four in 1930, but retired at just 28 years of age. Jones' greatest impact might have come off the course, when he founded the US Masters major event.
Arnold Palmer: Before Woods, it was Palmer who captivated the golfing world. He even had a video game! Hit em long and always have a crack at the hole was Palmer's motto and people loved him for it. A putting superstar, he never met one he couldn't make, and most of them went in.