20 different variants of blackjack
Australians cannot legally play online blackjack. This page is intended for an international audience and as an informational guide only.
There's a huge number of blackjack games available online, with some featuring traditional rules and others featuring completely unique gameplay. We take a look at 20 of the most popular real money 21 variants available online, which you can play at online casinos.
1. American Blackjack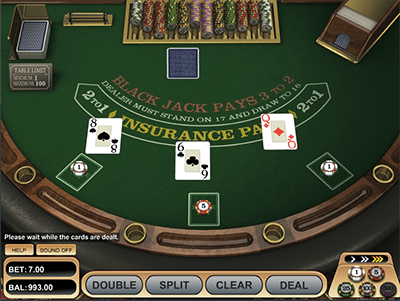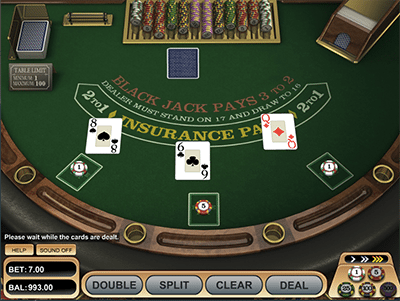 American Blackjack follows traditional American rules where the dealer receives two cards, with just one facing up. If the dealer has an Ace, they peek at the hole card and if it is a 10 or a face card they automatically win. Microgaming offer quite a few variants with American Blackjack rules, while BetSoft offer a standard American Blackjack title.
2. Blackjack Classic
You will find classic blackjack variants at all our recommended online casinos, but we recommended Microgaming's version as you can get the house edge as low as 0.13% with the perfect basic strategy. It is played with just one standard deck, but Blackjack still pays 3:2.
3. Classic Blackjack Gold
This follows the same gameplay as Blackjack Classic, but the graphics have been enhanced by Microgaming. We wanted to include this variant as you will find many of Microgaming's variants offering a Gold version, where graphics have been improved.
4. European Blackjack
European Blackjack rules see the dealer receiving just one card, and their second once players have received their cards and made their move. In other words, European 21 see's no hole card and no immediate blackjack is possible – but you have less of an understanding of what the dealer has.
5. Pontoon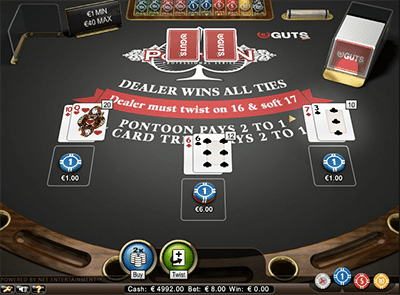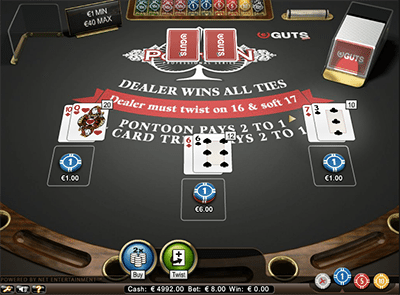 Online Pontoon shouldn't be confused with the Pontoon title found in Aussie land-based casinos. This variant is more akin to Spanish 21 with four to eight 48 card decks in play – the 10s are removed. Additionally, the terms Pontoon, Stick, Twist and Buy replace Blackjack, Stand, Hit, and Double. NetEnt have a great 'Pro' version with three table limits on offer – low, medium and high stakes.
6. Spanish 21
Spanish 21 by Microgaming is played with eight decks of 48 cards – 10s are removed. This increases the house edge, but favourable rules are added to make up for this including a player's blackjack beats a dealer's blackjack, as does a player's 21 with a dealer's 21, Late Surrender is available, and more.
7. Single Deck Blackjack Pro
NetEnt's variant offers a single deck of cards which lowers the house edge quite significantly and the title still offers a 3:2 Blackjack payout.
8. European Blackjack Gold – Redeal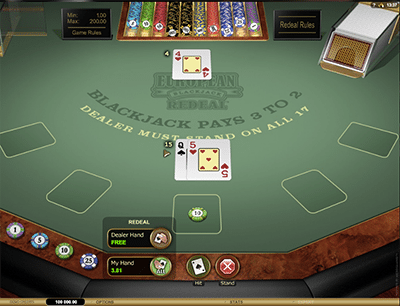 Microgaming offers the best Redeal 21 option online, where players can be dealt a new hand if your first wasn't what you were after. Two standard decks are in play and players can opt for Redeal My Hand to receive a whole new hand, Redeal Dealer's Hand to replace the dealer's upcard, or Redeal Last Card to replace your last card.
9. Vegas Downtown Blackjack
Vegas Downtown Blackjack is offered by Microgaming and features two standard decks with a low house edge. The dealer also has to Hit on hands with a Soft 17, which is unlike many other American Blackjack rules.
10. Bonus Blackjack
This is a variant of a variant – the Microgaming title follows the same rules as Vegas Downtown Blackjack but players can also make a side bet on their first two cards, as follows;
Jack and Ace of Spades, pays 50:1
Jack and Ace of Diamonds, Clubs or Hearts, pays 25:1
Two cards with the same suit, pays 5:2
11. Vegas Strip Blackjack
Vegas Strip Blackjack is another variant by Microgaming with American Blackjack rules, four standard decks and the dealer must Hit on any hand valued 16 or less.
12. Blackjack Multi-Hand
A great blackjack title for mobile devices, this variant by Play'n GO can also be found by many other providers. It is a standard game following European rules, six standard decks, and the option to play up to three hands at once.
13. European Blackjack Gold – Hi Lo 13
Microgaming offers standard gameplay here with the addition of a side bet to add an extra risk to the game.
Players can bet whether their first two cards will be;
Hi – between 14 and 20, pays 1:1
Lo – between 2 and 12, pays 1:1
13 – a total value of 13, pays 10:1
14. Atlantic City Blackjack
Another American Blackjack variant by Microgaming, featuring eight standard decks, but dealers have to Hit on hands less than 17 and the option of Late Surrender has been added.
15. Double Exposure Blackjack Pro
Created by NetEnt, as part of their Pro series, this variant sees both cards dealt to the dealer revealed face up. Blackjack pays 1:1, and players can choose from low, medium, or high stakes.
16. Pirate 21
Pirate 21 is a variant by BetSoft which is very similar to Spanish 21. Featuring six decks of 48 cards – all 10s have been removed – favourable rules have been added to balance out this disadvantage. These include player's blackjack beats the dealer's, insurance isn't available, Re-Splitting Aces is allowed, and players can Double Down on any number of cards.
17. Premier Blackjack High Streak Gold
This variant features European rules with additional side bets which rely on a player's winning streak. Players place their blackjack wagers, and then place their side bets in the Bonus Betting Spot with winning streaks paying as follows;
Second winning streak: 1:1
Third winning streak: 2:1
Fourth winning streak: 5:1
Fifth winning streak: 10:1
18. Super 7 Blackjack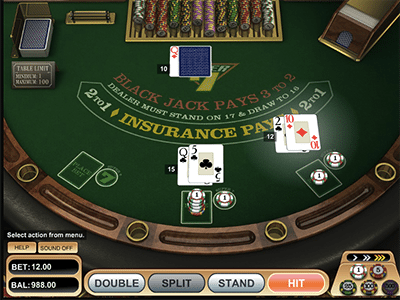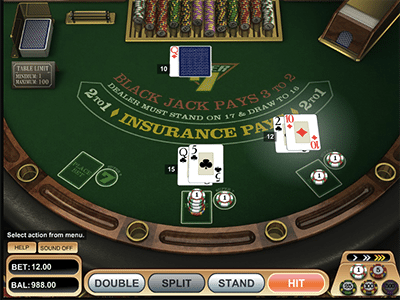 Created by BetSoft, this variant features American Blackjack rules with an additional side bet for $1 on a seven dealt as your first card. You will receive three times your bet if the first card is a seven with additional successive sevens scoring your even more.
19. 21 Burn
BetSoft's blackjack variant 21 Burn offers standard gameplay, but players can burn their second card for a new one at a cost – half their original wager. Blackjack pays 1:1.
20. Super Fun 21
Super Fun 21 is a unique Microgaming variant which offers a number of favourable rules for the player including one standard deck in play, the dealer has to Stand on Hard 17s, Late Surrender is available, Double Down on any number of Cards is available, and a player's Blackjack beats a dealer's blackjack. However, Blackjack pays even money due to these favourable rules.