Australia has a rich history of skilled poker players to have featured in the big leagues and to have made some serious poker profits in the several millions of dollars range. This article will take you through the top 10 Australian poker players who have made a name for themselves across numerous cash games, and national and international tournaments, such as the World Series of Poker and the Aussie Millions.
Joe Hachem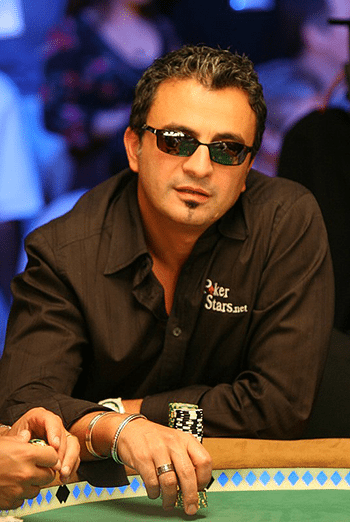 Joe Hachem was the first Australian to win the World Series of Poker. He did so in 2005, claiming a then record tournament prize amount of 7.5 million dollars. He won the tournament with a 7,3 off-suit, hitting a straight on the flop, and outlasting Steve Dannenmann who had a pair of Aces and was chasing an open-ended straight.
Born on the 11th of March, 1966, Joe Hachem (nicknamed 'Diamond Joe') is the highest ranking Australian poker player in live tournament career earnings, with his winnings exceeding 12.1 million dollars. Following his ground-breaking WSOP win in 2005, Diamond Joe went on to win his first World Poker Tour title, held the Bellagio Casino and its event, the Five Diamonds Poker Classic, collecting a cool 2.2 million dollars to add to his piggy bank.
Jeff Lisandro
Jeff Lisandro, nicknamed the 'Iceman', has won the most WSOP bracelets of any other Australian (six, as of June 2016), and has earned himself more than 5.4 million dollars in tournament career winnings. He is known as a cash game specialist, but also features in many tournaments around the globe, and is considered one of the best, if not the best, seven card stud player in the world.
During the 2009 WSOP, Jeff Lisandro took home world series titles in all three Seven Card Stud variants, winning Stud High, Stud High-Low and Razz, and becoming the first ever player to do so – this earned him the title of Player of the Year.
Gary Benson
Regarded as one of the most consistent Australian poker performers of all time, Gary Benson has been on the poker circuit since the first casino tournament in Tasmania in 1981. Nicknamed 'OzGary', he took home a WSOP gold bracelet in 1996, winning the Seven Card Stud event (cash prize of $148,200) and becoming the first Australian to claim the prestigious gold bracelet.
He attended the first Australian Poker Championship held in 1987 and won the event a decade later in 1997. He has also claimed victory in the Australian National Champion in Canberra in 2000, and has accumulated total tournament career prize winnings of more than 1.9 million dollars.
Billy Argyros
Nicknamed 'the Croc', Billy Argyros is one of Australia's most colourful poker personalities, having featured in and hosted multiple televised poker shows such as the Australian Celebrity Poker Challenge (as the resident expert) and having been the master of ceremonies and consultant for Foxtel hosted poker events.
His nickname 'the Croc' caught on when he introduced himself as 'Crocodile Billy' playing at a satellite event for the World Series of Poker. He has won multiple tournaments both locally and internationally, and finished 15th out of 273 player in the 1995 No Limit Hold'em Main Event. He has won more than 1.5 million dollars in tournament career prize money.
Jackie Glazier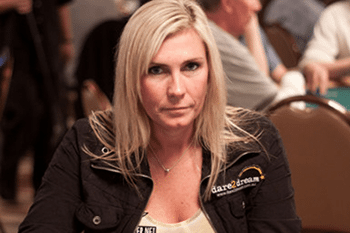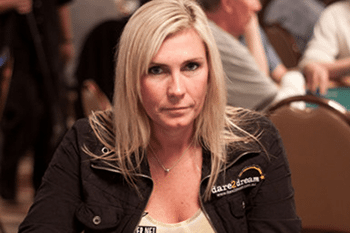 A late bloomer to the world poker circuit, Jackie Glazier only became a professional poker player around 2010/2011. Amazingly, she didn't get involved in poker until 2008, when she played a $20 home knock-out tournament with some friends. Since then, she has fast tracked her skills, competing in the 2012 Melbourne Poker Championships, and finishing second in the No Limit Hold'em Joe Hachem Deepstack ($35,000 in prize money) and winning the No Limit Hold'em Main Event ($95,000 in prize money).
Jackie entered the 2012 WSOP and took home a second place finish in a $3,000 bracelet event (winning more than $450,000), followed by a 31st placed finish in the 2013 WSOP main event (she was the last woman standing). In that same year, she won her first gold bracelet in the WSOP Europe Ladies' Event. She has amassed more than 1.3 million dollars in tournament career prize cash.
Antanas Guoga (nicknamed 'Tony G')
Born in Lithuania, Antanas Guoga grew up in Melbourne, Australia and is often referred to as the 'Mouth from Down Under'. An outspoken individual, 'Tony G' has an illustrious career, not only in poker but in politics as well.
Some of his most notable poker finishes include 'in the money' placings in the 2004 WSOP in Seven Card Stud and Pot Limit Texas Hold'em, a second place finish in the 2004 World Poker Tour Grand Prix de Paris (cash prize of $414,478), winning the 2005 No Limit Hold'em Main Event of the European Poker Championships (cash prize of $456,822) and claiming victory in the 2006 Singapore Betfair Asian Poker Tour Championship Event.
Antanas Guoga has won more than 4.8 million dollars across his career in live poker tournaments and owns multiple high traffic poker information sites, and has donated much of his winnings to charities. He has since retired from professional poker to focus his attention on politics in Lithuania and to have an influence across Europe.
Mel Judah:
Nicknamed 'The Silver Fox', Mel Judah is one of the oldest Australians on the poker circuit, and has established an extremely distinguished poker career, having earned two gold bracelets (winning the 1989 WSOP Seven Card Stud Event and the 1997 WSOP Seven Card Stud Event) and having won many other live tournament titles.
His other notable finishes include a third placed finish in the 1997 WSOP Main Event, winning the 2003 Legends of Poker title on the World Poker Tour (earning $579,375 in prize money) and coming first in the $1,100 Omaha Hi-Lo tournament at the Aussie Millions. He is the founder of Cashout Poker and has amassed more than 3.5 million dollars in tournament winnings.
David Steicke
Born in South Australia, David Steicke now resides in Hong Kong and has made a name for himself as an expert in high stakes no limit poker events. He has placed third in the High Roller No Limit Texas Hold'em Event in the 2007 Asia Pacific Poker Tour, won the 2009 Aussie Millions Poker Championship (and a prize of $1.2 million dollars) and placed second in the 2011 Epic Poker Main Event.
David's 2009 Aussie Millions win included a brave bluff against Tony Bloom that drew the praise from many poker experts. His total career prize money from live tournaments amounts to more than 3.4 million dollars.
Jeff Rossiter
Rising to poker pro status at a very young age, Jeff Rossiter has had numerous successes across Melbourne, Asia and Europe, and is fast catching Joe Hachem as the highest earning Australian poker player (second on the list behind 'Diamond Joe' as of June, 2016). Rossiter owns more than 6.2 million dollars in live tournament prize money, and finished in third-place in the 2011 Aussie Millions main event, netting a cool $700,000.
He also placed second in the No Limit Hold'em Main Event of the Guang Dong Asia Millions in Macau, earning 3.155 million dollars in prize money. His poker resume is highlighted by many other top 10 finishes in some very prestigious tournaments, including scoring a quarter of a million dollars for placing 5th in European Poker Tour's No Limit Hold'em Main Event. Keep an eye out for this young gun.
Mark Vos
Representing the online poker room Full Tilt Poker, Mark Vos, nicknamed 'Pokerbok', made a name for himself by fast becoming one of the highly regarded and esteemed players of online poker gaming, partaking in (and winning) some of the most expensive tournaments and cash games.
He went on to finish eighth in the Crown Australian Poker Championship (winning $83,600), and thereafter won Event Six of the 2006 World Series of Poker (the $2,000 No Limit Hold'em Event). He took home $803,274, and became became one of the youngest ever players to win a gold bracelet. His total tournament prize money amounts to more than 1.3 million dollars.
Shane Warne (as a notable mention)
Australian cricketing legend Shane Warne (nicknamed 'Warnie), is well known for dipping his feet into the poker circuit, having previously been an ambassador for 888 Poker and representing the online poker room in tournaments around the world such as the Aussie Millions, the WSOP and the 888 United Kingdom Poker Open. He also hosts a charity poker tournament. While his poker skills are no match for his bowling skills, the money he has raised through poker charity events is worthy of recognition.