Video poker has been around since the 70s and while quite popular, it can be overlooked by online casino enthusiasts because it is not a mainstream game. However this is a narrow minded view. Video poker is a game of skill and offers players a low house edge (much lower than pokies offer), which makes it a worthwhile game to play. It is also a game that players can heavily influence with a little bit of nous and easily slice the house edge to the most favourable of any casino games.
Is it legal for Australians to play Video Poker?
The Interactive Gambling Act 2001 imposed by the Australian government means online casinos cannot operate within Australian borders. This means Aussie players can't play at Australian-based online casinos. Offshore casinos are not allowed to service Australian players either.
Online video poker is only legally available for our overseas readers from countries where online gambling is lawful and regulated. In Australia, the Interactive Gambling Amendment Bill 2016 bans online casinos from servicing Australians as of September 2017, so this page and similar content across the domain is informational in nature only.
How to play Video Poker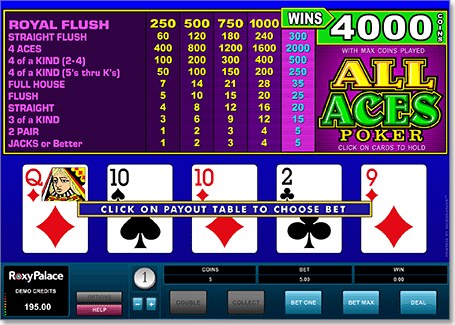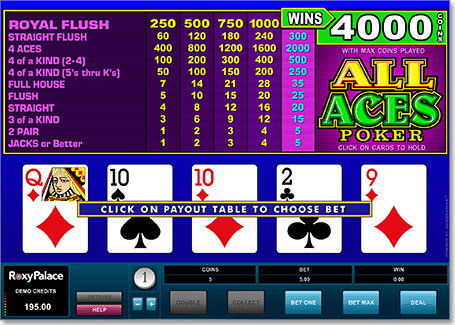 Video poker is a simple game to pick up with most games played with a 52 card deck – variants which require an extra joker or two will have these added to the deck. Be sure to read how many cards are played as this can affect the house edge and what strategy you play.
Whether you choose to play Jacks or Better, Tens or Better, Jokers Wild, Deuces Wild, or another variant this article will give you a general overview of how to play video poker online.
Once you have chosen the title to play, you can opt to play from one to five coins (some variants may have more) and you will then be dealt five cards. You can then choose which cards to keep and which to discard, with the latter being replaced from the deck.
The outcome is determined and players are paid out in accordance to the five columns in the paytable in association with how many coins you played.
The best way to increase your chances of winning is first find out the titles with the best payout rates and then find their associated strategy in order to optimise your experience.
Highest payout percentages
The Return to Player (RTP) rate determines how much you will see returned to you as you play with real money. The higher the better, as it means the lower the house edge.
For example, when it comes to pokies, the highest payout percentage you can get is around the 98% mark, which sees a 2% house edge – this is good for a slot but quite rare. Online table games on the other hand can see the house edge as low as 0.13% so that is a 99.87% RTP, which is what you want in an online casino title.
Video poker can have an even higher RTP if you find the right titles, with several games we found having a better house edge than single deck blackjack.
We have found three titles by Microgaming with incredibly high RTPs, provided you play the max bet and the basic strategy perfectly.
All Aces: 99.91%
Jacks or Better: 99.54%
Joker Poker 98.60%
You can find the strategy for these titles online with our no.1 casino for video poker being Leo Vegas Online Casino.
Play real money online video poker
To play the above listed video poker titles, and an assortment of other video poker games we have three of our favourite Australian-friendly web casinos to share with you.
Not only do they have a substantial number of video poker titles available but they are secured by third party organisations, which ensures your details are protected – incredibly important when making real money deposits.
32 Red: All of the video poker titles listed above are created by one of the top leading software developers, Microgaming. As such we recommend playing at online casinos solely powered by Microgaming to access all the video poker games available. 32 Red offers over 20 video poker titles and is licensed by the Government of Gibraltar to ensure these games are fair. Players can open an account and receive $10 free, no deposit required to use on the game of their choice.
Guts Guts online casino offers a variety of software developers – not just Microgaming – meaning you can enjoy a range of video poker titles from NetEnt and BetSoft too.
Enjoy over 15 video poker titles from the site licensed by the Malta Gaming Authority to ensure games aren't rigged in the operator's favour. There is also a $400 welcome bonus on offer for new players here.
Roxy Palace: Another online casino solely powered by Microgaming, Roxy Palace offers over 20 video poker titles and a $350 welcome bonus for new players. The site is licensed by the Government of Gibraltar, which confirms the titles are safe to play.
History of video poker
Interestingly, we can thank video poker for the acceptance of RNG games and ultimately it can be considered the backbone of online casino games.
Why? Well slots were originally mechanical and when the first electro-mechanical slots were introduced in the 60's, they weren't very well received. But during the 70s electronic video poker became available and this changed the way players looked at electronic games.
As such computerised slots were introduced as were computerised table games, number games, and of course video poker titles rolled out at online casinos.
This is why we thank video poker for allowing players to see that electronic and ultimately computerised games are fair – provided you play at secure online casinos such as the sites we list above as they are governed by agencies that regularly test fairness.
Why video poker is better than pokies
As we have mentioned throughout this article in terms of pokies versus video poker, the latter generally comes out on top – but only if the perfect strategy is played otherwise you may as well stick to the slots.
The RTP is a lot higher for video poker titles than the majority of slots and while we do have to say the graphics and themes of pokies are a lot more exciting, you aren't playing real money titles for this reason.
In the long term video poker is much more rewarding to your online casino account balance and thus is the better option out of the two casino categories.