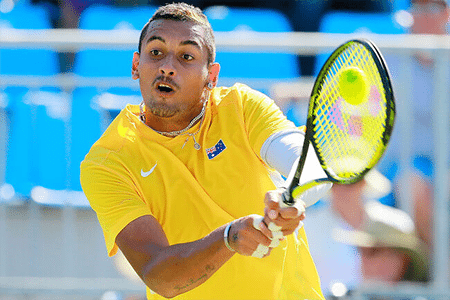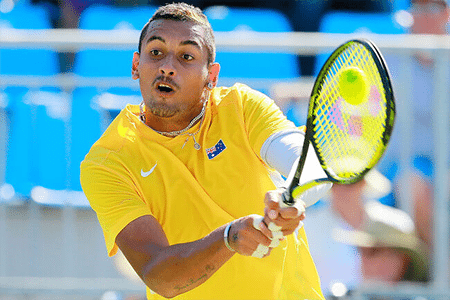 CONTROVERSIAL young Aussie tennis star Nick Kyrgios is his nation's great tennis hope.
At just 20, Kyrgios is head and shoulders above any other Australian player.
Born to a Greek father and Asian mother, the 20 year old firebrand has been dubbed the next big thing in world tennis.
Kyrgios, who has had a racquet in his hand since the age of four, enjoyed success at junior levels from the age of 15 and has burst onto the scene, the Canberran known as much for his brilliant tennis play as for his petulant behaviour.
He is the current Australian number one and is in the top 20 in the world.
Once known as a one dimensional big server, Kyrgios can send them down with the best, firing off some rockets that hit more than 210 kilometres an hour.
Kyrgios' game could be best described as an offensive baseliner as his stock standing, coupled with an ability to move all over the court.
Strong and athletic, his fitness has improved greatly. His aggression can be as much a blessing as a curse, as he often let's his emotions run wild during matches.
Both a blessing and a curse.
He can be over the top on the court, but that is what makes him good. His aggression and drive help him overcome odds and he has beaten come of the best players in tennis.
As he matures, you would hope he learns to temper and channel that aggression into his tennis, making him a better player.
"It's my job. It's my life," he says of the game, gushingly.
"I mean my game can always get better.
"There's always things I need to improve on.
"You can never be too ready.
"I feel like I play my best tennis on big stages.
"If I'm serving well and playing the right game style, I think I've always got a good chance."
He has had his fair share of controversies, both on the court and off. He called an umpire "dirty scum" at Wimbledon last year, and had a run in with another during the same tournament. He was accused of tanking against Richard Gasquet in the same tournament after blatantly giving up on a game during the match.
He's had battle lines drawn with Aussie Olympic swimming legend Dawn Fraser, calling her a "blatant racist" after she said he should go back to where his parents came from. One of Aussie tennis's favourite sons Pat Rafter was not spared when he took aim at young gun Bernard Tomic, giving him a serve on Twitter.
But his most infamous moment was in a match against Stanislas Wawrinka last year. "Kokkinakis banged your girlfriend. Sorry to tell you that mate", he told the French Open champ, attracting a big fine and a suspended ban.
Kyrgios is the youngest of three children, behind brother Christos and sister Halimah and had a big choice to make when he was 14 – tennis or basketball. He chose tennis and the rest is history.
Best Australian bookmakers to bet on tennis with
If you want to put your money where your mouth is and back the young star, we at gamble.com.au have sifted through the internet and separated from the cherries from the chaff when it comes to the best online bookmakers. Here's where to look:
Crownbet.com.au
WilliamHill.com.au
Sportsbet.com.au
Bet365.com.au
PalmerBet.com.au
Nick Kyrgios' best moments
Kyrgios knocks Rafael Nadal out of Wimbledon in 2014
The 18-year-old's defeat of Rafael Nadal in the fourth round of the French Open made him the first teenager to beat a world number one at a Grand Slam since Nadal beat Kyrgios' idol Roger Federer in the Roland Garros semifinals of 2005. Nadal was simply no match in the 7-6 (7-5), 5-7, 7-6 (7-5), 6-3 result that made people stand up and take notice. You sense there are bigger things to come, but what he did on the day was truly remarkable. A massive $11 outsider and paying $20 with sportsbet.com.au to win three sets to one, Kyrgios shocked the world, and left the bookie reeling after more than 2150 patriotic punters jumped on.
Reaches 2015 Australian Open quarter finals with brilliant five set win.
Down twos sets to love, Kyrgios, has to dig deep against Andreas Seppi if he wanted his home country Grand Slam to continue. And that's exactly what he did, coming out in the third set a new man and swooping on a 3-2 result, 5-7, 4-6, 6-3, 7-6 (7-5), 8-6, in three hours and 34 minutes.
The breakthrough: Kyrgios wins first ATP tour title.
Kyrgios was the talk of Australia when he captured his first ATP title at Marseille in February 2016 – knocking over two top 10 opponents and former US Open champion Marin Cilic, 6-2, 7-6 (7/3), on his way to the top prize.
Kyrgios becomes the youngest player in the top 20 in seven years in 2016
The 20 year old became the youngest player to burst into the top 20 this decade with w a win over Canadian Milos Raonic, 6-4 7-6 (7-4), at the Miami Open quarter finals. Cilic was the previous youngest, breaking into the top 20 in 2009. It was the first time an Aussie had made the final four at the tournament since legend Lleyton Hewitt did it in 2002.
Tips for making money when betting on Nick Kyrgios matches and tournaments
First thing's first, before you place your bet on the hot serving Aussie, make sure you've met all of your obligations at home. Don't punt the rent money on a Kyrgios win, that's a sure way of getting burned.
Secondly, make sure you have multiple betting accounts – we've detailed the best of the best above. This is not so you can lose money quicker, far from it, it is to make sure you're getting the most competitive odds on the young tennis tyro.
Kyrgios beats the best: There's something about a high seeded player that brings out the best in Kyrgios. He has beaten the likes of Rafael Nadal, Milos Raonic, Richard Gasquet and Tomas Berdych over the journey. He rises to the occasion and has the talent to match it.
Expect a lot of aces: If there is ace betting, back the young star in. He hammers them down at a remarkable clip, making his devastating serve almost impossible to send back.
Find the futures markets: There are some fun novelty markets with our recommended bookmakers, but you can also bet on future markets, like if he will win a grand slam. It's hard to see him not achieving a goal like that.