Australians cannot legally gamble at online casinos as of September 2017. Any mention of casinos is intended for international readers only. Aussies can enjoy a range of betting sites, however.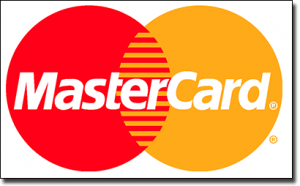 MasterCard is a globally recognised payment method and a premier choice when gambling online. The security features and the ease of making a deposit with MasterCard means we can get gaming immediately, at our favourite online gambling sites.
We do need to play at secure sites for our own safety however, and therefore you need to find reputable online casinos and bookmakers which accept MasterCard.
We have done the work for you however, and as such detail the best MasterCard sites, as well as how to make a deposit with the payment method to get playing instantly, here.
Gamble with MasterCard at online casinos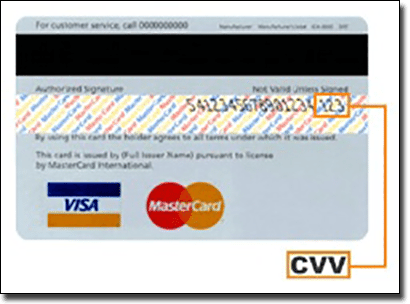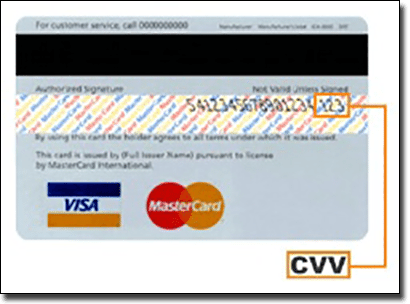 MasterCard can be in the form of a credit, debit, or prepaid card, with each option accepted by MasterCard participating casinos and bookies. Each follow the same easy process of entering the numbers on your cards into the appropriate fields to make a deposit.
Since you are using your personal financial information, rather than an e-Wallet (such as Neteller or Skrill), which offers an extra layer of protection, you do need to ensure you are playing at an incredibly secure online casino or bookmaker.
As we are MasterCard users ourselves, we only play at verified sites which have been confirmed by advanced gaming jurisdictions (such as the Malta Gaming Authority, the UK Gambling Commission, and more) as well as real players via authentic reviews online.
We therefore recommend using MasterCard at the following bookmakers:
CrownBet – Minimum: $5, Fee: None
William Hill – Minimum: $5, Fee: None
SportsBet – Minimum: $5, Fee: None
Bet356 – Minimum: $10, Fee: None
LuxBet – Minimum: No minimum, Fee: None
Palmerbet – Minimum: $10 Fee: None
And the following casinos;
Slots Million – Minimum: $20, Fee: None
Royal Vegas – Minimum: $10, Fee: None
Thrills – Minimum: $10, Fee: 2.5%
Guts – Minimum: $10, Fee: 2.5%
32Red – Minimum: $10, Fee: None
Leo Vegas – Minimum: $10, Fee: None
It is important to note when making a deposit with MasterCard that your financial institution can charge you a fee if you using a credit or debit card under the Advance Cash Rate even if the site charges a fee already. Prepaid cards may or may not incur a fee depending on where you got it from, for example Commonwealth Bank.
How to gamble with MasterCard online
Gambling online is easy with MasterCard. Simply click our links for direct access to the site of your choice and sign up if you aren't a member yet.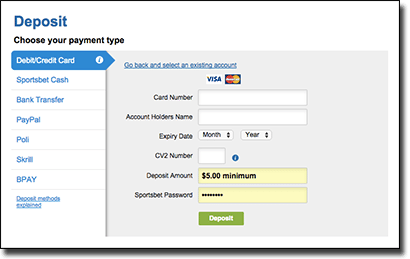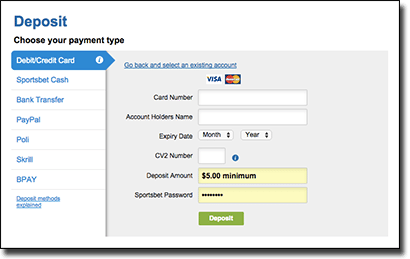 Once you've logged in, head to the banking page and locate the MasterCard logo, or opt for 'Credit' or 'Debit' cards (MasterCard prepaid users need to opt for either option too).
Then it is as simple as entering the details on your card including the card name (which may be 'Account Holder' for prepaid cards), the number, the expiry date, and the three-digit security code found on the back.
Confirm the transaction and the funds will be credited to your online account instantly, while your personal account will be charged within 24 hours.
If it appears on your statement as an amount more than your deposit, this could be due to the fees incurred by the online site – which we detailed above – or it could be due to your financial institution's policy on gambling transactions, thus incurring a fee. For example, the Commonwealth Bank incurs a fee under the Advance Cash Rate.
Some financial institutions don't allow gambling transactions at all, despite owning a MasterCard credit or debit – so opt for MasterCard prepaid in this case. You can purchase a MasterCard prepaid (Gift Card, Travel Card, or Everyday Money Card) from the Commonwealth Bank (may incur a fee), supermarkets (Coles or Woolworths), or online.
Check your bank's policies for more information on whether you can or cannot use your MasterCard to make a deposit.
MasterCard security features for online gambling
MasterCard is recognised worldwide thanks to the security features offered and when it comes to online gaming, players are able to store their cards – provided you are playing at one of the safe sites we've listed above – and top up simply using the three-digit code on the back of the card (called the CVV or CVC) after your first deposit. This saves time and means you can get playing or punting quicker.
MasterCard also offers a Zero Liability policy so if you notice any unusual behaviour you can claim against the fraudulent activity and receive any stolen funds back. Since our sites employ the latest data encryption technology people are unable to hack into the sites to access your MasterCard details to steal – but in the worst case scenario MasterCard has you covered.
Withdrawals with MasterCard
Unfortunately, you can't use MasterCard credit, debit, or prepaid cards to withdraw from your casnio account, but you may be able to use Maestro, a debit card under the brand of MasterCard.
If you don't own a Maestro card you can sign up for a web wallet, such as Neteller or Skrill, and use this to make a withdrawal instead.