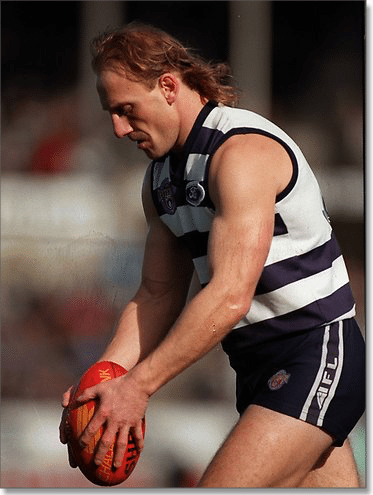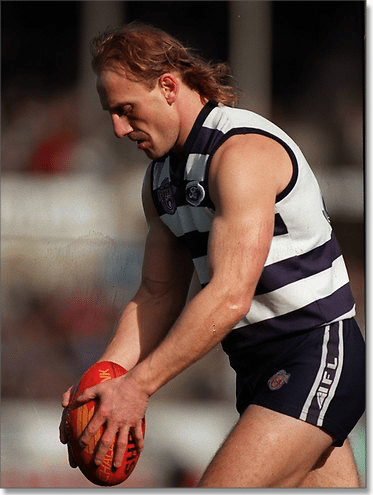 Australian rules football has witnessed some truly remarkable goal kickers down the years.
Gordon Coventry slammed home some 1299 majors for the Collingwood dynasty of the 1920s and '30s, only to be surpassed by the one and only Tony Lockett more than 50 years later.
And let's not forget the man after whom the AFL leading goal kicker trophy is named: John Coleman, who scored 537 in just 98 appearances for Essendon between 1949 and 1954.
But where does Gary Ablett, Senior – widely regarded as the most naturally gifted footballer ever to play the game – figure in the all-time list?
Gary Ablett Sr. VFL/AFL goal kicking stats
Clubs: Hawthorn, Geelong
Career: 1982 – 1996
Games: 248
Goals: 1030
There you have it – the one they call 'God' banged in 1030 goals in 248 games.
The overwhelming majority of those came during his glorious 12-year residency at Geelong, after a false start at Hawthorn in 1982 produced just six senior appearances and nine goals.
That career tally puts the great man fifth in the all-time VFL/AFL goalscoring charts, behind Lockett (1360), Coventry (1299), Jason Dunstall (1254) and fellow Cats legend Doug Wade (1057).
He also features in the top 10 for average goals per game (4.15) – an outrageous record for a player who rarely lined up as a traditional full forward until the twilight of his career.
Those later years under Malcolm Blight's coaching were phenomenally productive for Ablett, who won three consecutive Coleman Medals between 1993 and 1995 with season goal tallies of 124, 129 and 122 respectively.
He remains the only player in history to have achieved such a feat with consecutive centuries, and the oldest man (33 years of age) to have notched 100+ goals in a single season.
Ablett also holds league records for most goals in a VFL/AFL Grand Final (nine) and most goals in a finals series (27), both achieved in 1989 when he famously won the Norm Smith Medal despite Geelong losing to Hawthorn in the decider.
He was similarly prolific in representative football, scoring 43 majors in 11 State of Origin caps in an era where Victoria's forward line also boasted the likes of Lockett, Stewart Loewe, Garry Lyon, Dermott Brereton and Paul Salmon.
The elephant in Ablett Senior's trophy room is the lack of a Grand Final winner's medal. He played in three losing flag bouts with the Cats (1989, 1992, 1994), which gives him the dubious honour of being the greatest player never to win a VFL/AFL Premiership.
Top 10 VFL/AFL goal kickers of all time
1. Tony Lockett (St. Kilda 1983-1994, Sydney 1995-2002) – 1360 goals in 281 games
2. Gordon Coventry (Collingwood 1920-1937) – 1299 goals in 306 games
3. Jason Dunstall (Hawthorn 1985-1998) – 1254 goals in 269 games
4. Doug Wade (Geelong 1961-1972, North Melbourne 1973-1975) – 1057 goals in 267 games
5. Gary Ablett, Sr. (Hawthorn 1982, Geelong 1984-1996) – 1030 goals in 248 games
6. Jack Titus (Richmond 1926-1943) – 970 goals in 294 games
7. Matthew Lloyd (Essendon 1995-2009) – 926 goals in 270 games
8. Leigh Matthews (Hawthorn 1969-1985) – 915 goals in 332 games
9. Peter McKenna (Collingwood 1965-1975, Carlton 1977) – 874 goals in 191 games
10. Bernie Quinlan (Footscray 1969-1977, Fitzroy 1978-1986) – 815 goals in 366 games
Gary Ablett Snr. career achievements
League honours:
– AFL Team of the Century
– Australian Football Hall of Fame
– AFL Players' Association MVP (1993)
– Norm Smith Medal (1989)
– 3 x Coleman Medal winner (1993, 1994, 1995)
– 4 x All-Australian (1992, 1993, 1994, 1995)
– All-Australian team captain (1995)
– 4 x VFL Team of the Year (1984, 1986, 1989, 1990)
Club honours:
– Geelong Football Club Greatest Ever Player Award
– Geelong Team of the Century
– Geelong Football Club Hall of Fame
– Carji Greeves Medal for Geelong Best and Fairest (1984)
– 9 x Geelong leading goal kicker (1985, 1986, 1988, 1989, 1990, 1993, 1994, 1995, 1996)
– 4 x Geelong B&F runner-up (1985, 1993, 1994, 1995)
– Geelong all-time leading goalscorer
State of Origin honours:
– Victoria Team of the 20th Century
– Captain of Victoria (1995)
– 11 State of Origin appearances
National awards:
– Australian Sports Medal (2000)
– Centenary Medal (2001)