With a population of over 82,000, Bendigo is Australia's fourth largest inland city, and the fourth most populated city in Victoria. First put on the map thanks to the gold mining boom of the 1850's, many Bendigo residents continue the search for fortune the modern-day way – by playing the pokies.
Victorian law stipulates no more than 300,000 electronic pokie machines are allowed in the state, and in early 2015 it was reported there were 29,031 pokies in active operation. Not just limited to the built-up areas around Melbourne, pokies can be found in regional towns all over Victoria. Hundreds of these pokies are housed in pubs and clubs around Bendigo, so if you're wondering where you can play pokies in Bendigo, here's our guide to the top picks.
Bendigo pubs and clubs with pokies
Bendigo is a quiet, family-friendly town, and many locals incorporate the pokies into their regular entertainment repertoire. Whether heading out to grab a beer with mates, or just wanting to try your luck on the slots, there are plenty of venues around Bendigo offering pokies in a relaxed environment. Here are some of the best pubs and clubs with pokies around the Bendigo area:
The Bendigo Club – 22 Park Street, Bendigo
The Foundry Hotel Complex – 2 Old High Street, Bendigo
City Family Hotel – 41 High Street, Bendigo
Fortunes Bendigo – 171-185 McIvor Road, Bendigo
Hotel Shamrock – Corner Pall Mall and Williamson Street, Bendigo
Old Boundary Hotel Bendigo – 2 Milroy Street, Bendigo
Rising Sun Hotel Bendigo – Corner Bernard and Arnold Street, Bendigo
West Bendigo Sports & Entertainment Centre – 134 Marong Road, Bendigo
Windermere Hotel – 112 High St, Kangaroo Flat
The Borough Club – 2/4 High Street, Eaglehawk
All Seasons Hotel Bendigo – 171/183 McIvor Road, Bendigo
RSL pokies in Bendigo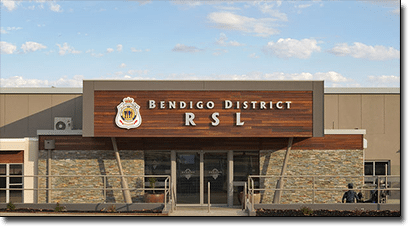 RSL clubs provide a relaxed alternative for Bendigo punters looking to try their luck at the pokies. While these venues are reserved for people who served in the armed forces, family and friends are welcome and the local RSL can be a great place to socialise over a drink, a meal, a game of pool, and in some clubs, enjoy a few games on the pokies.
The Bendigo District RSL provides a comprehensive range of services, including multiple tennis courts, function rooms, a military museum, pokies, TAB and Keno facilities. One of Australia's finest RSL's, you'll find the Bendigo District RSL located at 73-75 Havilah Road, Bendigo.
Melbourne's Crown Casino
Bendigo residents are lucky in that if you've really got the hankering for a night out at a land based casino, the world renowned Crown Casino Melbourne is less than a two-hour drive away. This makes the Crown the perfect destination for a night of high-end gaming, dining and entertainment for bucks nights, anniversaries, birthdays or any other excuse to head to the bright lights of Melbourne. The Crown Melbourne has 3,500 pokie machines, with games which can be played for one cent or one dollar, while the VIP gaming lounge offers a selection of $5 pokies.
Before heading out to any casino or pokies venue around Bendigo, head to one of our recommended real money online casinos where you can try your luck at Internet pokies to familiarise yourself with the different types of games available.