Multi bets, also known as parlay bets, provide punters with the opportunity to significantly increase their odds for the potential return of larger payouts.
By combining multiple single bet events into one larger wager, your odds are multiplied, and while the chances of successfully getting each bet correct are reduced with each additional single wager, the incentive is always the ever increasing payout.
This article will guide you through the most efficient way to place a multi bet with an online sports bookmaker, and also note the rules and regulations which come with placing these highly popular wagers.
Building a multi bet, rules and odds
To begin to build your multi bet, head to any of our endorsed bookmakers, and access the market and bet type you wish to place. Once you select your desired wager, it will immediately enter your bet slip as a single wager.
Thereafter, you can access and select another bet to place, and it too will enter your bet slip as a single wager. However, within your bet slip, you will now have the option to combine those single wagers into a multi bet, with the multiplied odds of those two selections displayed, too.
For example: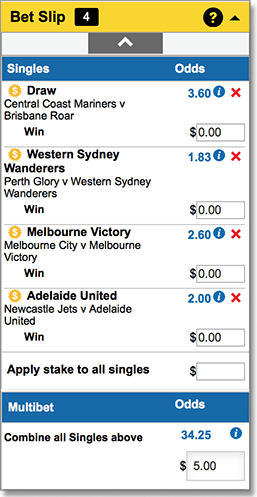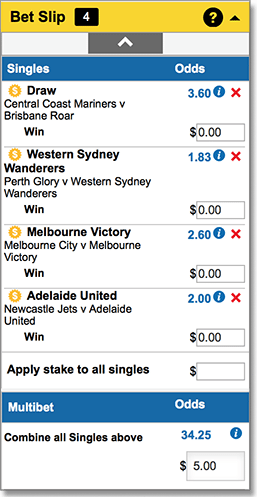 You have selected Melbourne Victory to beat Western Sydney in the upcoming A-League match, and this is paying odds of $2.75.
You have also selected the New York Knicks to beat the Sacramento Kings in the upcoming NBA match, and this is paying odds of $2.88.
Combining the two wagers as a parlay bet gives you odds of $7.92. Both bets (known as legs in a multi) will need to be successful in order for your multi bet to pay out. If one leg fails, you will lose the wager. You can continue to add legs to your parlay wager, multiplying the odds with each additional selection.
If you add the 'draw' option for the upcoming New Zealand vs Sri Lanka test match (paying $3.90) to the above multi wager, your combined odds for the whole wager will now be $30.88 ($2.75 x $2.88 x $3.90). Place $20 on this combination, and if all three legs are successful, you will win a total of $617.76.
When building a multi bet, you will notice that some selections cannot be combined with other selections. This is typically the case when one bet directly correlates with another bet. For example, two different types of wagers from the same sporting event cannot be combined to form a parlay (such as, Melbourne Victory to beat Western Sydney and the correct score to be 3-2). You will be informed within your bet slip if you are unable to combine any of your selections within a parlay wager.
Keep a keen eye on multi bet promotions, too.
Some bookmakers will offer punters the chance to get their money back if, for example, a four-or-more-leg parlay wager fails due to one unsuccessful selection (three of your four legs win).
Multi-boosters are also common, where the bookie will offer an extra percentage on the payout of larger multi wagers. For example, build a five-leg EPL parlay bet, and the bookmaker promo may be a 20 per cent boost on the already combined odds. A six-leg EPL parlay bet may come with a 30 per cent boost, and so forth.
Multi bet variations are also available to punters:
Combined wagers of three or more selections present the option for what is known as a 'boxed exotic multi bet'. This type of multi splits up your entire parlay into smaller multi wagers, to include all possible combinations.
For example, if your have five selections (1, 2, 3, 4 and 5), you can opt to place a 'Double', 'Treble' or '4-fold' exotic multi bet, along with the traditional all-encompassing parlay bet.
The 'Double' option provides you with 10 individual multi bets, each of which contains two legs to cover every possible combo of your five selections.
The 'Treble' option also allows for 10 individual multi bets, each of which contains three legs to cover every possible combo of your five selections.
The '4-fold' option permits five individual multi bets, each of which contains four legs to cover every possible combo of your five selections.
It is important to work out your total outlay for these types of wagers, and what your potential returns could be. Remember, multiple boxed multis can win in this scenario. The larger the parlay wager, the more options you will have to play around with your exotic multi bets.
The best online and mobile bookmakers to place multi bets with
The below sports bookmakers are licensed and regulated inside Australia, and residents aged 18 years and older can lawfully place real money multi bet wagers over the Internet via any mediums with these agencies.
Sign up with any of these bookies and make the most of the new member free bet deposit bonuses. We recommend registering an account with at least two different sites so you can compare and ensure you receive the best odds.
Crownbet.com.au
Sportsbet.com.au
WilliamHill.com.au
Palmerbet.com
Bet365.com.au

Details required for sign up include name, username, password, date of birth, email, address, preferred currency and generally a 'security question'.

Fund and withdraw money instantly from your account via any of the several secure banking methods, all of which support Australian currency and utilise the latest secure socket layer digital encryption technology to protect your transactions. Popular options include:

Visa and MasterCard credit and debit cards
E-wallets such as PayPal, Neteller and Skrill
Bookmaker cash cards (work just like EFTPOS cards)
Direct wire transfers via online banking systems such as POLi and BPAY

First time withdrawers will be required to verify their identification by submitting an ID document such as a copy of their passport, driver's licence, credit/debit card (with middle number hidden) or utility bill displaying their current residential address.

This is a one-time only requirement to adhere to stringent safety measures; once submitted and approved you no longer need to prove your identity, and your withdrawals will be processed instantly.

Multi betting is a very entertaining and exciting way to punt, and can offer some huge returns. Many bookies will also offer a cash-out option for multis (and single wagers), where punters can follow their bets and choose to cash out at any stage if they think they're wager may fall through, or if they are content with the calculated return they have made thus far. As always, gamble responsibly.