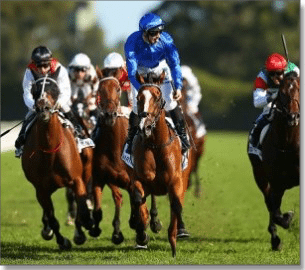 They call the Melbourne Cup the race that stops the nation and it's true. I remember as a kid in primary school, the teachers would watch the clock like a hawk. Five minutes before the Cup was set to jump, the teacher would roll out the teevee that was 30 years old at a touch over 3pm, on the first Tuesday of November.
Of course before I left for school I had given my parents $2 and precise instructions on who they were to put the $2 on: usually the horse with the coolest name. Once the horses jumped teacher and student would become equals. We would all scream bloody murder at the dilapidated teevee that you had to squint at to actually see the race through all the static on the screen.
Once the race was over and the one winner in class had finished doing their jig on the table, the teacher would wheel away the teevee and we would continue on with the day, as if nothing had just happened. These days with a far greater understanding of the sport of kings, and a heftier bankroll I look forward to the big event.
The Melbourne Cup is run over 3200m at the Flemington racecourse in Melbourne, Australia, and attracts many of the best stayers in Australia and abroad. In recent years international trainers and connections chasing the huge purse on offer have flooded Australia creating a slight uproar from local trainers, who say the raiders are being favoured.
The Melbourne Cup is open to horses who are three year old and over and it is a quality handicap, with the minimum weight allocated 50kg. The nominations for the great race usually close in August, with the weights issues in September, just over a month out from the jump.
The next running of the Melbourne Cup will be on Tuesday, November 1.
Bookies for the Melbourne Cup
Every bookie worth their salt in Australia takes bets on the Melbourne Cup. However we have orchestrated a list of our usual suspects. This collection of bookies is trusted, easy to use and offer regular promotions. The Melbourne Cup attracts significant betting interest all year round, with bookmakers usually having odds up for the next running of the cup, just days after the last one has been run.
CrownBet.com.au
WilliamHill.com.au
SportsBet.com.au
Bet365.com
PalmerBet.com.au
Free bets at Australian betting sites
When it comes time for the Spring Racing Carnival bookies around Australia and the world dream up new ways to entice you to bet with them ahead of their competition.
Some of the great deals to look out for around this time are inflated odds, money back if your horse doesn't win on certain races, free bets equal to your bet if your horse loses and countless other deals. Check each bookie for their offers during this time.
Having a number of accounts across a wide range of bookies allows you to take advantage of the best promotions, free bets and deals for you during the Melbourne Cup. So bet smart and look around before placing your bet.
Melbourne Cup 2016 odds
Fame Game – $15.00
Max Dynamite – $15.00
Mongolian Khan – $15.00
Trip To Paris – $15.00
Almoonqith – $18.00
Order Of ST.George – $18.00
Tarzino – $18.00
Amralah – $21.00
Gust Of Wind – $21.00
Preferment – $21.00
History of the Melbourne Cup
Ever since Frederick Standish put forward the idea of a horse race called the Melbourne Cup in 1861, Australia has been captivated by what has now become the most spectacular handicap race in the world.
The Melbourne Cup is the world's richest Thoroughbred handicap for three year olds and up and spans 3200 metres – or two miles in the old measurements. It is held at 3pm every year on the first Tuesday of November at the Flemington Race Course in Melbourne.
The total prize kitty dolled out to the first 10 across the post is $6.2 million with $3.6 million of that going to the first place runner.
Melbourne Cup – The modern years
It seems as though the Melbourne Cup grows in popularity and drama with each passing year. Here is a quick recap of the last five years.
2015: We saw 100/1 long-shot Prince of Penzance poke in front of the pack with 100m to go. Jockey Michelle Payne was riding Prince of Penzance, becoming the first female jockey to win the Melbourne Cup. Tragically Red Cadeux was euthanized a few weeks after the race after suffering an injury in his fifth Melbourne Cup tilt.
2014: Protectionist, ridden by Ryan Moore managed to take out the race. However headlines were grabbed by Red Cadeux who made 2014 his third year as runner-up in the Cup, since coming second in 2013 and 2011. Sadly, two horses, favorite Admire Rakti and Araldo died after injuries.
2013:Fiorente, ridden by jockey Damien Oliver and trained by Gai Waterhouse was the winner of the 2013 Cup. This was a big year because it marked Oliver's third cup win, also taking it out in 1995 and 2002.
2012: Green Moon, ridden by Brett Prebble won in what was described as a bit of a boil-over due to Green Moon's long odds of $22.50.
2011:Billed as the closest finish in Melbourne Cup history, Dunaden, ridden by Frenchman Christophe Lemaire, won in a photo finish, just pipping Red Cadeux in a thriller.
Past winners of the Cup
Here is a list of the last 20 years worth of Melbourne Cup winners. Listed are the year, name of the horse, name of the winning jockey and the horse's trainer.
2015 – Prince of Penzance – Michelle Payne – Darren Weir (notable win because it made Michelle Payne the first female jockey to win the Melbourne Cup)
2014 – Protectionist – Ryan Moore – Andreas Wohler
2013 – Fiorente – Damien Oliver – Gai Waterhouse
2012 – Green Moon – Brett Prebble – Robert Hickmott
2011 – Dunaden – Christophe Lemaire – Mikel
2010 – Americain – Gerald Mosse – Alain de Royer-Dupre
2009 – Shocking – Corey Brown – Mark Kavanagh
2008 – Viewed – Blake Shinn – Bart Cummings
2007 – Efficient – Michael Rodd – Graeme Rogerson
2006 – Delta Blues – Yasunari Iwata – Katsuhiku Sumii
2005 – Makybe Diva – Glen Boss – Lee Freedman
2004 – Makybe Diva – Glen Boss – Lee Freedman
2003 – Makybe Diva – Glen Boss – David Hall
2002 – Media Puzzle – Damien Oliver – Dermot K. Weld
2001 – Ethereal – Scott Seamer – Sheila Laxon
2000 – Brew – Kerrin McEvoy – Mike Moroney
1999 – Rogan Josh – John Marshall – Bart Cummings
1998 – Jezabeel – Chris Munce – Brian Jenkins
1997 – Might and Power – Jim Cassidy – Jack Denham
1996 – Saintly – Darren Beadman – Bart Cummings
1995 – Doriemus – Damien Oliver – Lee Freedman
Makybe Diva is the most successful horse to have ever graced the Melbourne Cup, having won three Cups back to back (2003-2005).
Bart Cummings is the most prolific trainer of winners at the Cup with a staggering 12 Cups to his name spanning from 1965 to 2008.
Bobby Lewis and Harry White hold the record for the most Cups won by a jockey with four a piece.
Only four horses have ever won with odds of 100/1: The Pearl (1871), Wotan (1936), Old Rowley (1940) and Prince of Penzance (2015). That's four 100/1 shots from 155 starts.