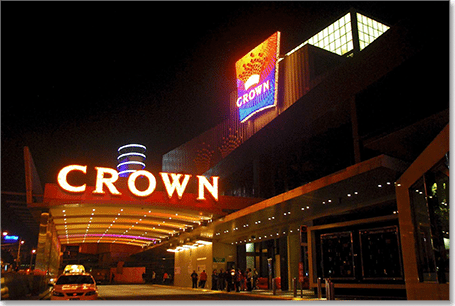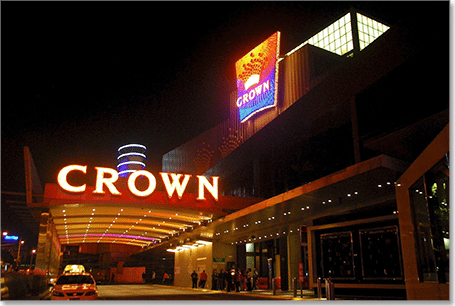 Crown Resorts Limited has unveiled its earnings for the half year ending December 2015, reporting a net profit of $200.7 million, a slight loss on the reported $201.1 million in the prior comparable period (PCP).
The most significant results were impacted by such factors as growth in the Australian operations within the main gaming floors, along with an increase in the play/win rate by VIP guests and a decline in contributions from Crown's joint venture in Macau, Melco Crown Entertainment (MCE).
Within the Australian Resorts, gaming revenue on the main floor increased by 9.8%, providing the most solid performance of this period, while VIP gaming was down by 3.8% although still reporting a decent turnover of $35.7 billion. Given the 61.4% growth reported by the VIP gaming sector in the prior comparable period and the current decline in VIP play across the Asian market, Crown Resorts considers this a reasonable outcome.
Crown's Melco shares were down 66.3% from the PCP, a testament to the challenging times being endured by Macau that are being felt by casino operators worldwide, with the Chinese market reporting a 31.3% loss in gross gaming revenue. While Macau's market is inarguably in a down point, the outlook remains positive.
Rowen Craigie, Chief Executive Officer of Crown Resorts said, "The 2016 first half results across Crown's portfolio of businesses were varied."
"The decline in MCE's result was attributable to weak market conditions in Macau. Overall gross gaming revenue across the Macau market in the half year to 31 December 2015 declined by more than 30%. However, the payment of a special dividend by MCE to Crown of US$120.0 million, highlights MCE's strong cash position and cash flow generating ability which has enabled MCE to return surplus capital to shareholders while still investing in MCE's business."
Crown's mid-year report recorded an EBITDA loss of $9.8 million from its online and social gaming operations that include Crownbet, Betfair Australia and DNG Games.
During this reported period, Crown Resorts acquired an A$136.4 million 20% ownership interest of international hotel and restaurant company, Nobu, as well as an A$59.1 million 50% ownership interest in the Packer family's luxury Ellerston property in the Hunter Valley which includes accommodation, golf course, cinema, multiple swimming pools and a go-cart track.
The mid-year report also states that Crown fully disputes allegations of owing tax penalties of $362 million, with the press release affirming: "Crown is a significant taxpayer in Australia and disputes the amended assessments. Crown considers that it has paid the correct amount of tax and intends to pursue all available avenues of objection (including, if necessary, court proceedings) to the amended assessments."
Crown Resorts property updates
Crown has also provided an update on the status of the Crown property developments that are currently underway:
Crown Towers, Perth
The newest property at Crown Perth, the Crown Towers hotel complex is currently underway and proceeding on time and budget for a targeted opening of December 2016. As of January 2016, 70% of the projected budget has been spent.
Upon completion Crown Towers will be the largest hotel in Perth, featuring 500 luxury rooms, private gaming salons, convention centre, ballroom, restaurants, bars, high-end retail outlets and spa facilities.
Crown Sydney Project
Design plans for the Crown Sydney are underway, with discussions in place with prominent architects, interior designers and engineering firms. Crown has entered into a Construction Agreement with Lend Lease Building to support the development, with construction in the Barangaroo South location depending on receipt of necessary planning approvals.
If the Crown Sydney project gets the go ahead, the Crown Sydney Hotel Resort will be a six-star property featuring 350 luxury rooms and residences, world-class VIP gaming facilities, roof top infinity pools, designer retail outlets, signature restaurants and bars, and banqueting facilities.
Alon Las Vegas Project
In August 2014, Crown Resorts acquired a 34.6-acre site on Nevada's famous Las Vegas Strip, with the proposed Alon property to coincide with the recently announced Convention Centre and Resorts World expansions. Designs, building permits and funding options are underway, with construction pending planning and approval.
Melbourne's Queensbridge Hotel Project
Designs are currently being finalised for a luxury hotel and apartment complex on Queensbridge Street across from Crown Melbourne. The proposed property will include 388 hotel rooms, 650 luxury apartments, resort pool, spa, restaurants and a rooftop function space. The project is a joint venture between Crown Resorts and The Schiavello Group, with design by Wilkinson Eyre Architects and will include a sculptural link bridge between the Queensbridge Hotel and the Crown Entertainment Complex.
If development is approved, the hotel will become Crown's fourth Melbourne property and is expected to generate 3,900 jobs for Victorians.