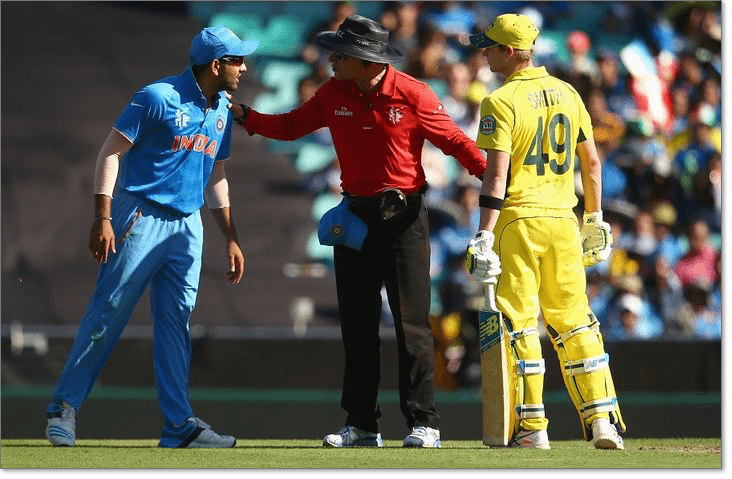 Tuesday, January 12, 2016, 2.20pm AEST, WACA, Perth, watch on Nine Network
BITTER rivals Australia and India renew acquaintances in the first of five one day international matches at the WACA on Tuesday.
And they are expecting something less than a Perth Scorcher, with rain looming at a time when the sun is usually baking the city.
Both teams are coming off dominant test series where they slaughtered their opponents with ruthless precision, the Australians ($1.45 with CrownBet.com.au) hammering a woeful West Indies, while the Indians ($2.45 with CrownBet.com.au) remarkably destroyed one of the best cricket sides in the world against South Africa.
That is the long form of the game, but hopefully the good form bodes well for a closely fought one day series on Australian shores.
But punters at Sportsbet.com.au have given India very little chance of beating Australia in the first match, the bookie's Christian Jantzen reporting six times the money has been invested on Australia.
David Warner is the favourite to top score in the Australians' innings at $3.75, but Glenn Maxwell has been the best supported overall at $7.50.
"Having dominated the West Indies, Australia have to step up from a maiden to a group one against India but the World Cup winners are back to their pet distance of 50 overs," Jantzen said.
Despite a new look Australian side that is set to feature at least one debutante, former Australian captain George Bailey reckons the fire will still be there in a rivalry often fuelled by the likes of retired guns Michael Clarke, Mitchell Johnson and Brad Haddin.
Bailey did not play in Australia's victorious World Cup team, but he is obviously hoping to make it back with a vengeance, given a slot thanks to Clarke's retirement.
"We've got a really big rivalry with India and it's a big deal for us to try and beat them," Bailey said.
"We've had some fierce battles, both in India and here over the last few years.
"And they play a really strong, aggressive brand of one-day cricket, in much the same mould that we do.
"We've got a great record in one-day cricket over the last couple of years, but it's a huge amount of changes for us from that World Cup final nearly 12 months ago.
"It's a changing of the guard, a lot of guys trying to find their way in the team, and some of us older guys trying to make sure we can stay in the team for as long as we can."
While Bailey affirmed the rivalry without really stoking the coals, gun bat Rohit Sharma still has his clash with Aussie fire brand David Warner in his mind.
"It will be a case of fighting fire with fire," Sharma said.
"Both teams have a history against each other and are highly charged up wanting to get results in their favour.
"The last series that we played here in 2014 was very closely contested.
"Although the result didn't go our way, we fought right till the end.
"We played some good and positive cricket, which is exactly what we want to do this time as well.
"Having been here before, you do get to know what to expect from the opposition.
"Australia is an opposition who do not give anything away easily.
"As a side playing against them, you have to grind your way and test yourself in the middle.
"Nothing comes easy here; you have to earn every run.
"As a cricketer it is very exciting to face and thrive on such challenges.
"What you do to conquer them and come out winning will be a real test of your character.
"People appreciate your performances here and putting up notable contributions will do a world of good."
Despite winning the World Cup, Australia has only one batsman in the top 10 in the world batting rankings – Glenn Maxwell – but that is testament to how even and talented this side is. And, without Mitchell Starc, who is set to miss a long period after ankle surgery, the new look pace attack, which features Josh Hazlewood, Kane Richardson back from the international wilderness and uncapped hopefuls Scott Boland and Joel Paris, will have its work cut out for it against this Indian line up.
The Indians loom large as a very competitive side. Many of the players back in Australian were involved in the country's effort to reach the semi finals of the World Cup just a few months ago and boast a batting attack that is the envy of many other nations. Virat Kohli, the combative captain MS Dhoni and Shikhar Dhawan are all in the top 10 in the world in the one day international batting rankings.
They have won both of their warm up games, which will instil some confidence that they can mix it with the Aussies on their home soil.
But they have already suffered a blow, with fast bowler Mohammed Shami ruled out of the series due to a hamstring injury during training – without a ball being bowled.
A Board of Control for Cricket in India statement revealed he had suffered a grade two injury to his left hamstring and will miss four to six weeks. He has been replaced in the touring squad by Bhuvenshwar Kumar.
Dhawan cracked 74 as India won its opening tour match against a Western Australian XI and says his side has designs of reclaiming the number one spot in One Day International cricket – especially without having to face the likes of Johnson, Pattinson, Starc and the injured Pat Cummins.
"Of course we are quite pumped up and we are preparing well," Dhawan said.
"We are just going to keep working hard and keep ourselves calm and focused for the matches to come.
"Even if they were there still we would have still done what we have to do.
"We just focus on what we have to do and whatever we are going to face over the coming matches from their side, we are going to take it as it comes."
Predictions
Match result: Australia wins ($1.45 with CrownBet.com.au)
Highest opening partnership: India ($2.05 with Crownbet.com.au)
Is Australia ripe for the picking? There is much being said about the likes of Paris, Boland and the changing face of Australian cricket. But there is no substitute for experience. India has a genuine chance of winning this series. But we feel it will be tough on a WACA deck that is tipped to be fast and hold prodigious bounce – unlike the road that was rolled out in recent tests. Australia has a power house batting line up that starts at the top with Warner and Finch, its best bat captain Smith, with Bailey and Marsh in the middle order and the likes of Faulkner, Maxwell and Wade to close. Similarly, the Indians boast a star studded line up with Kohli, Sharma, Dhawan and Rahane heading it off for the likes of Dhoni later. With both sides looking fairly even in the bowling stakes, it really is hard to pick a winner here. We will go with the Aussies on account of the home ground advantage and fast WACA pitch, but we feel like this series is going to be a flip of the coin.
Top run scorer tips
Australia
Shaun Marsh ($5 with CrownBet.com.au)
Has he finally taken the next step? It has taken a lot of time and chances, but you just feel like Marsh has finally got the mettle to match his supreme talents. That's what a couple of digs against the sub standard Windies will do for you. This guy tore the Big Bash League to pieces after being left out of the last test in Sydney and we feel like he will have a point to prove against the West Indies. On his day, is about as good to watch as any batsman alive with an array of strokes that would make many blush. The Indians will be worried about the likes of Warner, Finch and Smith, but this guy holds the key to Australia's series. Watch him tee off and win you some money.
India
Rohit Sharma ($4.25 with CrownBet.com.au)
Australia's one day international tormenter is back for another round. Did you know Sharma is the only current Indian player to average better than 50 against the Aussies? He is only 145 runs away from 1000 against the cricket powerhouse and he's scored them at better than 57, with three centuries and two half centuries in 18 matches. Capable of huge one day scores, his strike rate of nearly 94 against the Australians puts him well and truly in that upper echelon. The just married Sharma is in good form after a half century in the warm up tour match and will be keen to provide a thorn for Australia's side.
Top wicket taker tips
Australia
Scott Boland ($4.50 with CrownBet.com.au)
Where has this guy come from? The Victorian seamer has been biding his time in the wings after being called up to the Australian squad for the past two tests against the West Indians, but not getting a gig. But he is sure to get his chance now after a remarkable performance with the rock in the Big Bash League where he has managed to restrict opponents to 26, 26 and 18 runs off his four overs in his past three matches. His death bowling is peerless in Australia and, provided he can hold his nerve, he looms as the Aussies' ace in the hole as India chases quick runs at the end of the innings. Kevin Pietersen reckons he and John Hastings rolled out the best death bowling performance he had seen when he had to face the pair in a recent match for the Melbourne Stars. If KP is saying that, good luck India.
India
Barinder Sran ($5 with CrownBet.com.au)
New Year, new India? It has been a long time since we could say India has had a top line fast bowler (can you remember?), but this kid looks like the future. The uncapped left-arm paceman is just 23 years old but he steamed in Western Australia, claiming 2-24 and could prove to be the find of the summer. His battle with Perth Scorchers' youngster Joel Paris could be series shaping – whoever does more with the rock when given the opportunity might just swing the series their way.