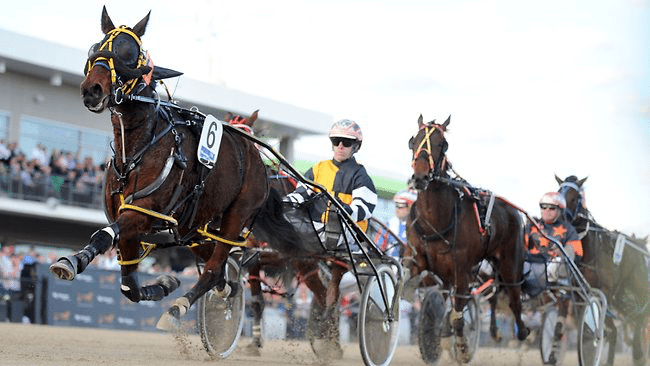 THE harness racing industry has been rocked by the arrest of four figures in connection with alleged race fixing.
Medi reports say Victoria Police confirmed the quartet, two men and two women, were arrested at Melton, west of Melbourne.
The arrests marred what is one of harness racing's biggest events, the Breeders Crown.
Top trainer Nathan Jack and partner Amanda Turnbull have been named among those arrested by media reports.
HRV chairman Dale Monteith hit the airwaves today to speak on the issue.
"We fully support Victoria Police in the action they've taken and even the timing of it because I think it sends a very clear message to all those people out there who have been crying out for integrity in harness racing for a long time," he told 3AW.
"We've got increased drug testing — we've got some more cameras on course in terms of film footage to help our stewards.
"You can certainly take it from me that the new HRV board is absolutely determined to ensure that harness racing in Victoria is a clean as it possibly can (be)."
The arrests came as the result of an investigation by HRV's integrity department, according to a statement from the sport's governing body in Victoria, issued on Sunday.
"In June 2015, the Harness Racing Victoria (HRV) Integrity Department initiated an investigation into matters relating to the conduct of a race at Cobram on 22 June, 2015, particularly with respect to the training arrangements and associated betting activity surrounding the relevant race," the statement read.
"The extensive investigation conducted by the HRV Integrity Department resulted in the HRV Integrity Department referring the matter to the Victoria Police Sporting Integrity Intelligence Unit in November, 2015, for further investigation.
"With respect to the further progression of the investigation by Victoria Police on 28 August, 2016, HRV are unable to make any further comment at this time.
"HRV will make further comment as soon as able."
Today, it issued a further statement, asking the arrested parties to show cause as to why they should not be banned from racing.
"With respect to the actions taken by Victoria Police at the Melton harness racing meeting yesterday involving harness racing participants, Victoria Police has advised Harness Racing Victoria (HRV) its investigation is continuing and that no charges have been issued against the relevant parties," the new statement read.
It has given the parties until 4pm on September 2 – this Friday – to "provide submissions as to why their licenses should not be suspended or other action should not be taken under the provisions of the Australian Harness Racing Rules (AHRR)."
"HRV Integrity Department takes into consideration that the decision to suspend licenses of participants and/or take other actions are serious measures and thus all available material needs to be considered," the statement read.
"This includes the information from Victoria Police regarding the continuing status of its investigations and the absence of any criminal charges.
"With respect to the further progression of the investigation by Victoria Police on 28 August, 2016, HRV is unable to make any further comment at this time."
While Jack is among the people at the centre of the investigation, it is reported that he will be free to ride in the Breeders Crown on Wednesday.
Jack has been nominated to drive in races five and eight – both group 3 events worth $30,000 – on Wednesday night in Ballarat.
Fairfax reports the inquiry was led by the state's Sports Integrity Unit, which was set up by chief commissioner Graham Ashton several years ago in response to fears brought about by the rapid growth of online sports betting in Australia.
It is reportedly the only full time anti-sports corruption police taskforce in the nation.
The latest HRV sting comes in the wake of high profile father and son team Shayne and Greg Cramp pleading guilty to fixing in 2015.
Both men had their licences revoked and were barred from the sport for 12 years, but avoided jail time, instead copping community corrections orders.
Throughout the criminal and harness racing proceedings, both parties expressed remorse for their conduct with Shayne Cramp describing his actions as unforgiveable and a "brain fade" and Greg Cramp describing an "on the spot" decision which turned out to be diabolical.
Our take
This is massive news for harness racing across Australia.
But it is both good and bad.
It's terrible if there is fixing involved.
But it is also great that the industry is taking its regulation seriously and detecting this type of crime.
It is no doubt the first step toward cleaning up and industry that has always been conducted under an unsaid (and sometimes said) veil of perceived corruption.
You'll often hear punters refer to the sport as "cheats on wheels" and this incident does not do much to dispel that line of thought.
But, despite the bitter blow involving two champions of the racing community, and the fact there have been long held concerns over the ability to actually make money in the industry, it can recover from this.
Report race fixing:
If any one has any information relating to race-fixing allegations they can contact Crimestoppers on 1800 333 000 or www.crimestoppersvic.com.au or the information can be reported to HRV Stewards on 03 8378 0222 or the Racing Integrity Hotline on 1300 227 225.