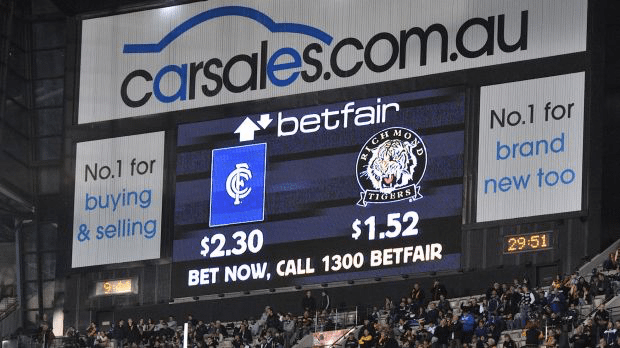 THE crusade against the gambling industry by both the Federal and State Governments continues, with Victoria the latest province to announce tighter measures on bookies.
The state's Gaming and Liquor Regulation Minister, Marlene Kairouz, yesterday announced a suite of proposed reforms around the advertising of sports betting that aimed to divert its impact on children.
Under the planned reformed, which the Andrew Government will introduce to Parliament in due course, sports betting advertising would be banned in locations:
That are near areas commonly frequented by children, such as schools
That are unavoidable in the public's day to day activities, such as on public transport
Where the position of the ad undermines the promotion of responsible gambling, such as an ad next to a gambling counselling service
In announcing the new measures, Ms Kairouz said the Government wanted to reduce the harm problem gambling had on Victorians, estimated to cost between $1.5 billion and $2.8 billion each year.
"Gambling is not an integral part of sport," Ms Kairouz said.
"Kids should be talking about their favourite sporting teams, not the odds of that team winning.
"The Andrews Labor Government is leading the nation, targeting insidious wagering ads which encourage Victorians most at risk to gamble.
"The Turnbull Government should follow our lead – crackdown on wagering ads at a national level, to protect the most vulnerable in our community."
The Government believes that sports betting advertising can shape attitudes and behaviours to gambling, and can encourage problem and at-risk gamblers to gamble.
It says it is acting on community concerns about the impact of wagering on the culture and integrity of sport, and the impact these ads have on problem gamblers.
It says the normalisation of gambling on sport increases the likelihood of people gambling at risky levels.
Children, adolescents and existing problem gamblers are most at risk.
Opposition Leader Matthew Guy lashed out at the planned measures, saying they did not tackle the real issues around problem gambling.
He said the announcement was hypocritical, after the government had slashed funding to anti-gambling programs.
"You can ban as many things as you like, but if the same Government is cutting those programs to deal with problem gambling you are banning one thing on one hand and aiding it with another," Mr Guy said.
The only way to fight addiction to gambling was to provide "essential" anti-gambling support and campaigns.
The minister called for public submissions in relation to the proposed reforms.
For more information on the proposed reforms and how to be involved in the consultation process, visit: myviews.justice.vic.gov.au
The Victorian move comes in the wake of the Federal Government's plan to attack dodgy bookmakers using overseas tax havens to hide their activities in Australia.
Federal Human Services Minister Alan Tudge, who has previously announced several crackdowns on bookmakers, said bookies would be submitted to more rules and regulations, conceding that Australians did like to bet but were "sick of having it rammed down their throats".
"Australians are the biggest gamblers in the world," Mr Tudge said.
"It's been part of our culture for a long time.
"But the problem with online gambling is you can literally bet your house away without leaving your living room."
The new Federal regulations will completely close the loophole on live in-play betting, banning the practice online, leaving punters forced to make a phone call to speak to a human operator, rather than using their smart phones or tablets to place bets during sporting events.
Several online bookmakers had been taking advantage of the loophole for some time, arguing that people could place their in-play bets online, provided the microphone on their device was enabled.
It was cheeky, but also took advantage of a grey area in legislation that formulated before smart phones were even thought of.
Those people who use credit to place their bets with online bookmakers can kiss that goodbye under the new reforms, the practice now outlawed and the government wants to stamp out our punters' dollars going overseas.
It will explore the possibility of asking internet service providers to block illegal websites or payments.
They want to get the states involved as well, with the measures also providing for a self-exclusion register for online gambling and a voluntary recommitment scheme that would help people who are struggling with their betting to limit their outlays.
That would be a joint effort with the other governments across the country.
While there has been a big push to completely legalise live in-play betting, from both the bookmakers and the major sporting codes, Tudge has been unmoved and this plan completely turns things around, going the other way and making things harder for punters to get their live bets on.
"I think we have enough sporting integrity issues and problem gambling already without needing to bet on every single moment of every game 24-7," Tudge said.
"Thousands of Australians love a punt and we don't want to interfere with that.
"But we are worried about the integrity of the game and about problem gambling."
Tudge has been staunch in his anti gambling crusade, which was brought about after one of the constituents in his local electorate told him the story of a bookmaker providing him with a line of credit of $80,000, almost costing him his home.