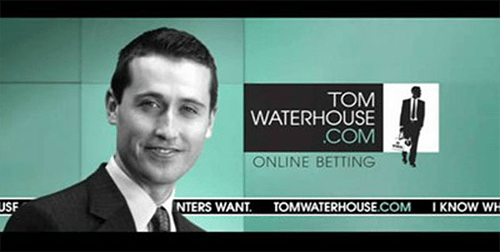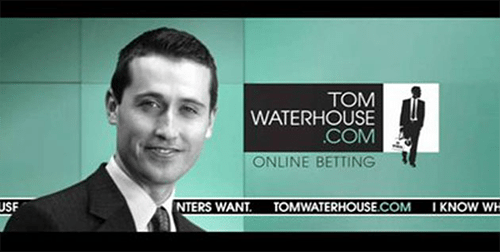 HIS face became synonymous with betting and was perhaps the catalyst for the Federal Government's intense scrutiny of the online gambling industry.
And William Hill Australia boss Tom Waterhouse has now admitted his brand was "highly polarising".
The Sydney Morning Herald reports that, in a presentation to fellow executives, Waterhouse said his business – which is now part of Hills – had fallen in market share amid the Government crackdown on the industry that had seen higher taxes and levies and tighter regulation.
SMH reports the Q&A transcript has Waterhouse admitting his company's market share had dropped from 17 per cent to just 12 per cent.
And he has warned things are probably only going to get worse.
With the Northern Territory – where Hills is licensed – banning in-play betting, it leaves the international bookies in a quandary.
Most of them are United Kingdom-based, where in-play betting had provided a massive boost to  the industry – and the reason most of them burst into the Australian market is because they believed the industry would follow suit.
And it did, for a time, leaving them with plenty of reasons to smile.
But not so now.
The bookies licensed in the Northern Territory now have about three weeks to terminate their live betting online after NT bowed to the Federal Government's wishes.
Bookies had been exploiting a loophole in the interactive gambling act, allowing punters to place bets on live sport, using their mobile devices, provided their microphone was turned on.
It was sneaky, but they had been getting away with it. The legislation is that live betting is banned online, with punters needing to pick up the phone and call an operator in order to place a bet during a live event.
And, if that wasn't enough, the bookies have to have a good hard look at their operations in South Australia, with the Government's new state-based 'place of consumption tax' set to make it far less profitable to offer markets in the state.
The fear is that other states will look at South Australia as a crash test dummy, seeing how successful its gamble is and then capitalising on it making the first move.
And then there are the sporting codes. They charge licensing fees to the bookmakers in order for them to provide endorsed markets on their events.
Those fees are not getting any cheaper, adding yet another fee to the bookies.
Advertising gambling during sporting events has been a huge bone of contention and it looks like the bookies are going to lose there too.
A TV ban would be diabolical for most bookies, with powerhouses Tabcorp and Tatts set to benefit, Deutsche Bank analyst Mark Wilson told the Australian Financial Review.
"We expect that it would negatively impact corporate bookmakers who are still trying to establish their brands as it would hinder their attempts to acquire and retain customers," Wilson said.
Waterhouse, in the Q&A does not step around the government's regulation or the sporting codes wanting a bigger slice of the pie.
"In terms of racing and sports fees, we're seeing a continued upward trend," he said.
"Australian sports codes have put in turnover tax or gross win tax or a mixture of both.
"In my view, only the biggest will survive, and the competition will get less and less over time, though it's very competitive right now."
He sees Hills as one of the biggest, but they are third behind the traditional TAB and of course, social media heavyweight Sportsbet.com.au.
He sees that as a positive – even though he doesn't think Hills can make inroads into the big two's handy lead.
"That's unlikely because TAB and Sportsbet are way ahead," he said.
"Being a solid number three in awareness terms is a good position for us."
In the first six months of 2016, the bookie has made $7.3 million in profit.
You would think that is good going, until you look at it in broader terms.
That translates to a 62 per cent drop.
It's massive.
Add to that a a 23 per cent half year drop to competitor Ladbrokes and a massive $10 million loss to Bet365 and it shows the state of the industry as a whole.
The bookies are not taking it lying down though, with several working to consolidate their businesses and mergers could be on the offing in the not to distant future.
Meanwhile they are pushing back against the South Australian tax with a "Stop the Punters Tax" campaign that is permeating through several forms of media as well as online.
Will it work? Only time will tell us.
Why are we meant to care about all this?
Yes, we know the big bad bookies put making a quick buck first and looking after punters second. But that is life. That's what happens in every business, unfortunately. But all these issues, harsher regulation, taxes, licensing fees, etc, don't just impact on the bookmaker. If it costs more to operate an online gaming business, who do you think pays for it? As Government regulation gets tighter and things like 'place of consumption' taxes become the norm, the negatives will filter down to punters. Lower odds, less promotions and less markets could all become a reality, eroding the enjoyment of the punt.