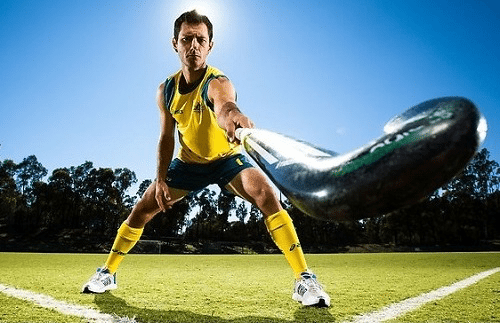 AUSTRALIAN hockey hero Jamie Dwyer is the $2.00 favourite at sportsbet.com.au to be the country's flag bearer at the Summer Olympic Games at Rio de Janeiro in August.
Dwyer, a three-time Olympic medal winner for the Kookaburras, was one of the fancied options at $3.00, but has since trimmed into the even shorter price.
The 37-year-old Rockhampton product said it would be a privilege to lead the nation onto the biggest sporting stage in the world.
"It's never been a goal of mine to be the flag bearer, but if it comes my way, of course I'd take it," Dwyer said.
"I'd be so honoured and proud to do that, not just for myself but for the sport in general."
Cyclist Anna Meares, has also caught the attention of the folks over at Sportsbet.
The online bookmaker slashed the odds of the three-time Olympic medal winner from $61 into $5.00.
Australian track and field star Sally Pearson – who was early $2.00 favourite for the honour – has drifted in the market out to $7.50.
Sportsbet representative Christian Jantzen believes it is anyone's guess as to who will be announced as Australia's flag bearer.
"You wouldn't want to be a selector for this job. What an outstanding group of athletes, any of them are worthy candidates.
"Anna Meares holds the bulk of punters' money, but Dwyer also has plenty of admirers,''
One man who will almost certainly not feature in the minds of the selectors is Australian shooter Michael Diamond.
Diamond was one of the favourites ($4.33) a month ago for the job, but after he was arrested for DUI Sportsbet moved the six-time Olympian out to $101.
Australian Olympic Flag Bearer
Odds provided by Sportsbet.com.au
$2.00 Jamie Dwyer
$5.00 Anna Meares
$7.50 Jared Tallent
$7.50 Sally Pearson
$10 Mark Knowles
$11 Kerry Hore
$11 Matthew Belcher
$15 Casey Sablowski
$20 Suzy Batkovic
$23 Alicia Coutts
$23 Melissa Wu
$23 Sam Stosur
$26 Patty Mills
$41 Andrew Bogut
$41 Cate Campbell
$51 Jason Day
$51 Milly Tapper
$101 Michael Diamond
Justice for Riccardio backers at the Monaco GP
Punters who backed Daniel Ricciardo to win the Monaco Grand Prix have had their money refunded by Sportsbet.com.au after Red Bull's shambolic pit stop cost the Australian his chance at winning.
Sportsbet refunded over 2,000 bets to the value of over $80,000 to its customers.
The 26-year-old Aussie was in prime position to win his first race of the year, but an disorderly pit lane stop at a pivotal stage of the race allowed reigning champion Lewis Hamilton to overtake and ultimately topple the Perth product.
Red Bull – who has the fastest pit lane stoppage time in F1 history of 1.923 seconds – took a disastrous 13.6 seconds to get Ricciardo back on the track.
The Western Australian was incensed after the race, claiming he had been 'screwed' by his team.
"The guys were running around like ducks, I don't like being up here and being miserable because I got a podium in F1 and it should be a good day." Ricciardo said.
"This is such a prestigious race. I may win it in the future but this one I will never get back so it hurts a lot more than any other."
Red Bull Team Principal Christian Horner conceded that the bungled pit stop cost Ricciardo the win.
"All we can do is apologise to Daniel and say that we haven't given him a good enough service, having done a great job with him to get the pole." Horner said.
"He had done everything right in the race … unfortunately, a communication error between the pit-wall upstairs and the tyre management [downstairs] let us down.
"Despite this, he had a really good go at attacking Lewis.
"He got pretty close, on the exit of the chicane, on one occasion, but just didn't quite have the opportunity to get past."
"We know how hard it is in Monaco to overtake and, effectively, the race was lost at that pit stop."
Ricciardo and Red Bull now have two weeks to regroup and get back on the same page before the Canadian Grand Prix kicks off on the 11th of June, where the Aussie will start as the $8.00 third favourite.
F1 Canadian Grand Prix
Odds provided by Sportsbet.com.au
$2.25 Lewis Hamilton
$2.50 Nico Rosberg
$8.00 Daniel Ricciardo
$10.00 Sebastian Vettel
$13.00 Max Verstappen
$26.00 Kimi Raikkonen
$67.00 Valtteri Bottas
$81.00 Felipe Massa