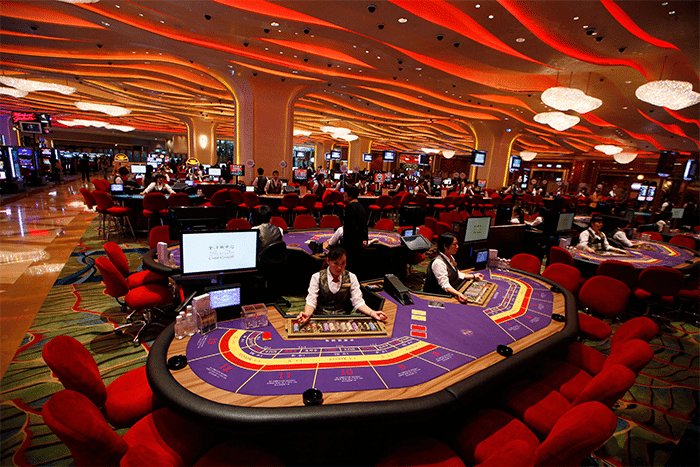 HAS the slow down in the Chinese economy and the governments push to stamp out corruption ushered in the death knell for its multi billion dollar casino industry?
Not quite, but reports out of Macau reveal that revenue in the huge gaming city has fallen for 24 straight months.
The latest figures from the Macau Gaming Inspection and Coordination Bureau show the casinos still generated a ridiculous $2.3 billion in May, but that was almost 10 per cent down on the same month last year.
Analysts had predicted the drop to be about six or seven per cent, but the 9.6 per cent fall has caused alarm.
From January to May, revenue on last year has dropped a staggering 11.9 per cent.
People in China simply have less to spend and the high rollers who might not be totally legit have begun avoiding Macau, thanks to the government's crack down.
It has been going on since 2012, but the government has targeted officials and businessmen and women in the precinct, pushing many away from the island resort.
The casino revenue is the pillar of the Macau economy, but it has had a noted shift in its offerings, prompted of course by the government, to focus on better tourism marketing, rather than the old school punting calls.
A trio of new multi million dollar resorts are on the horizon this year, with features including a gondola ride, luxury shopping centre and even a scale version of the Eiffel Tower.
While they got the predicted drop wrong, analysts are saying that the long term viability of Macau is set in concrete, with the recovery set to take time.
To give you an idea of the scale, Bloomberg reports the $30 billion industry is the source of about 80 percent of the former Portuguese colony's tax revenue.
Has the US adopted an Aussie gambling policy?
In Australia, we've been able to set voluntary limits on how much we spend in poker machines for some time.
Now, despite heavy opposition from the US gambling lobby, Massachusetts is set to become the first state in America to launch a system allowing slot players to limit their bets.
As in Australia, the Americans hope the system will reduce the number of casual players from descending into addictions.
Massachusetts Council on Compulsive Gambling boss Marlene Warner said it was "truly a prevention tool".
"We want people to keep gambling in a way that's healthy and safe for them, so that it doesn't rise to that problematic level."
The Americans are calling it the "Play My Way" system and are first rolling it out at a slots parlour in a harness racing track in a place called Plainville.
It's expected to be rolled out early this month.
Depending on success, it could be extended to further casinos in the state and it is hoped that other states would catch on.
Casino operators had initially argued the system had not been effective in countries like Australia.
Since December last year, all of Victoria's poker machines have offered users a "precommitment" option, allowing them to use cards to set their limits on how much they are happy to spend.
But it has been criticised, because problem gamblers can simply remove the cards once they have hit their limits.
We call it "YourPlay", but the $197 million program has seen just 8000 people sign up to it in its first six months.
The system is installed on every poker machine in the state and tracks usage across all venues, meaning people using the card can't venue jump to outlay more cash.
Victorians lost $2.5 billion on poker machines last financial year.
Minister for Gaming and Liquor Regulation Jane Garrett said in the scheme's first six months more than 2.5 million responsible gambling messages had been delivered during 818,000 pokies sessions.
She said more than 1730 users had set personalised messages to be displayed to them when they approach their playing limit.
"This is the first scheme of its kind and it's great to see thousands of Victorians are signing up," Ms Garrett said.
"This is not a magic bullet.
"The scheme is simply designed to help people track and limit how much they spend.
"It's about giving people more control."
American Gaming Association spokesman Christopher Moyer said: "Any responsible gaming tool should be targeted to assist the small minority of players that may confront irresponsible play without harming the entertainment experience for nearly all players who enjoy our entertainment experience responsibly."
"We're optimistic this tool will help to achieve this goal."
Warner said "Play My Way" was voluntary.
"Gamblers would never be cut off from betting," she said.
"By enrolling, they simply receive regular, on screen notifications as they approach or reach their limit.
"They also can change their betting ceiling or un enroll at any time.
"It's just a tool to make that person aware of what's happening and the decisions they're making."