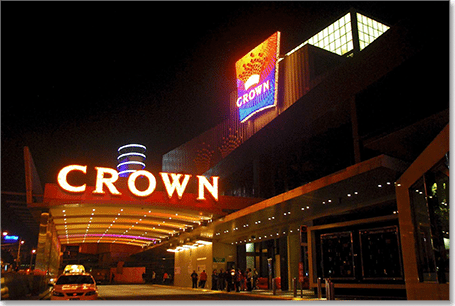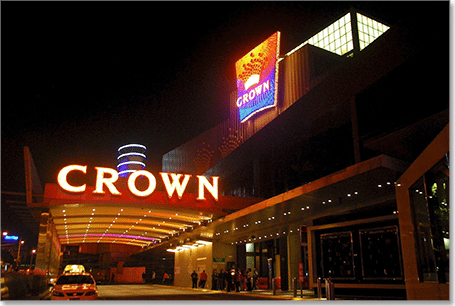 CROWN Resorts' Aussie holdings have been given a tick, but the gambling giant's international assets have taken a blow, with the company set to demerge some of its underperforming interests.
In a bid to enhance value for Crown Resorts' shareholders, the company has decided to split the company to place those international interests – in Macau – in a separate holding company, leaving its portfolio at four casinos and wagering and online interests
Crown Melbourne, Crown Perth, Crown Sydney and Crown Aspinalls in London, England, will remain under the Crown Resorts banner, along with CrownBet.com.au, Betfair Australia and DGN Games, in Austin, Texas, USA.
The new holding company will take over Crown Resorts' ownership of two companies in Macau, China.
The gambling haven has been rocked by a government crackdown on corrupt practices, forcing many high rollers away.
It has also been hurt by a down turn in the Chinese economy which has forced punters to tighten their belts.
The new company InternationalCo, will hold the former Crown Resorts' interests in Melco Crown Entertainment in Macau, the trouble plagued Alon casino resort development site in Las Vegas, its 20 per cent holding in restaurant Nobu, its 50 per cent holding in Aspers casino in London and its investment in Caesars in Las Vegas.
Crown Resorts' chairman Robert Rankin said of the plans: "We are pleased to announce that the Board has endorsed a number of initiatives designed to maximise shareholder value and ensure a more efficient ownership structure for the group's assets."
"The Board has, for some time, been looking to address what we believe to be a material undervaluation by the market of Crown Resorts' assets, due to a traditional consolidated (or amalgamated) structure.
"In particular, we believe that Crown Resorts' extremely high quality Australian resorts are not being fully valued and the Crown Resorts share price has been highly correlated to the performance of its investment in Macau."
"The proposed demerger reflects the different nature of Crown Resorts' controlled Australian operating assets from its international investments.
"It will provide investors with greater investment choice and transparency on the underlying quality of all of Crown Resorts' assets."
"Following the proposed demerger, investors will have the opportunity to invest in Crown Resorts, which will own and operate Australia's pre-eminent integrated resorts, with exciting developments such as Crown Sydney.
"Investors will also have the opportunity to invest in a separate company which will own a number of Crown Resorts' international investments and provide exposure to the major gaming markets of Macau, Las Vegas and the UK."
"Crown Resorts has achieved cash returns equivalent to double the total cash it has invested in Melco Crown Entertainment (MCE) and still holds a 27.4 interest in MCE, valued at approximately $2.7 billion.
"Crown Resorts continues to have great faith in the long-term development of the Macau market.
"Macau remains the world's most important and exciting gaming market over the longer term.
"Crown Resorts' revised dividend policy is expected to provide increased cash returns to our shareholders and reflects the strong earnings and cash flow generating capacity of Crown Resorts' business and the company's conservative balance sheet gearing following the sale of part of its MCE shareholding."
"An IPO of a property trust, which owns most of Crown Resorts' Australian hotels, would provide an opportunity to realise significant value for our shareholders whilst maintaining a majority interest in key assets within our Australian business."
Crown Resorts sold part of its stake in Melco Crown Entertainment last month, giving it
In May Crown Resorts, which is majority owned by mogul James Packer, offloaded part of its stake in Melco Crown Entertainment (MCE) for over $1 billion, sending its Aussie share price sky rocketing by nearly six per cent.
Former chairman – and majority owner – James Packer stood down last year, but it was planned that he would be engaged as a senior executive and be paid a salary. That agreement has now changed and the gaming mogul will no longer perform the role or be paid a salary.
A statement from Crown Resorts said the company "remains a priority for Mr Packer and, as Crown Resorts' major shareholder, Mr Packer will continue to be focussed on Crown Resorts' businesses, in particular continuing as the Deputy Chairman of MCE and optimising Crown Resorts' capital structure/cost of capital and returns."
"He will also have a key focus on Crown Resorts' online strategy."
Rankin will remain the chairman of both companies, but each will have its own separate board of directors and management.
"Implementation of the demerger is subject to further approval from the Crown Resorts Board as well as approval by the Crown Resorts shareholders under a scheme of arrangement," the statement read.
"It will also be subject to obtaining various approvals, consents and waivers from third parties including State Governments and regulatory bodies, ASX listing approval and a satisfactory ruling being received from the ATO.
Shareholders will be given a boost, with the company to adopt a new dividend policy that pays out 100 per cent of its normalised net profit.
The dividend per share is currently 52 cents, but, if this new policy was in place one year ago, shareholders would have received about 70 cents per share.
"It is proposed that Crown Resorts shareholders will receive new shares in InternationalCo proportionate to their existing Crown Resorts shareholding, while retaining their existing Crown Resorts shares," the statement read.