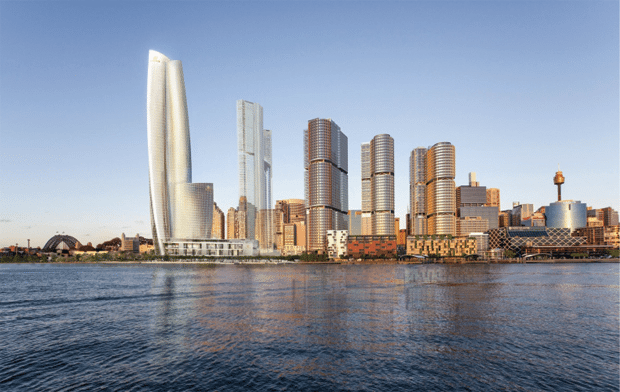 JAMES Packer's vision of expanding his Casino empire took another step towards completion after the NSW's Planning Assessment Commission approved his $2 billion proposal to build a new facility in Sydney's CBD.
The commission's approval now gives the NSW government the ability to green light the project, which will see a casino and resort built in the inner-city Sydney suburb of Barangaroo.
The luxury "six-star" hotel will have a similar outlay to Melbourne's Crown Casino – providing hundreds of jobs and providing a new source of tourism for the state
The new casino will house in excess of 300 rooms and suites, apartments, restaurants, bars, shops, conference facilities, as well as VIP gaming rooms.
The commission noted that the design quality of the casino meant that the structure had the potential to achieve "iconic" status, which was a contributing factor in the overall decision.
"The commission declines to wade into debate as to the iconic status of the proposed building," the commission said.
"Nonetheless, the commission acknowledges the design excellence aspiration and commitment by the applicant and their design team and has had regard to their responses to the recommendation of the Barangaroo Design Advisory Panel.
"The commission is satisfied that the changes made to the design by the architect included in the application, improved physical setting, and appropriate attention to materials and finishes now required in the condition, will support realisation of that goal."
The approval of the casino and resort is the result of several years of negotiations between the NSW state government and Mr Packer, and the development plans have undergone several key changes in that timeframe.
The original plan devised back in 2013 when then-premier Barry O'Farrell declared it would cater to high rollers and not be a "full blown casino" which contained a surplus poker machines.
Crown Resorts conceded a number of sticking points in order to get the go-ahead, which included allowing more public space for people to walk the harbour as well as public access to an observation deck.
Crown Resorts' chairman Robert Rankin said the approval was subject to "substantial modifications and conditions".
"While it has been a long and detailed process, we are pleased with the overall outcome," Mr Rankin said.
"We're deeply committed to building a six-star hotel resort that Sydney-siders and all Australians can be proud of.
"We will now move quickly with excavation work."
Crown Sydney is expected to be operating by 2021.