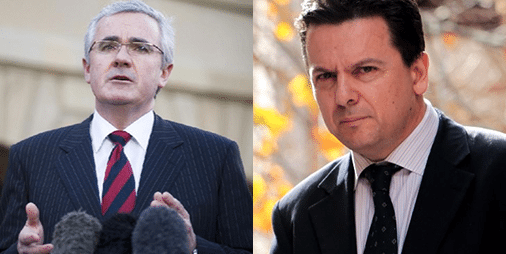 THE election was little more than a couple of weeks ago, yet the battle lines on gambling have been well and truly drawn.
Noted anti-gambling campaigners Andrew Wilkie and Nick Xenophon were returned with hefty voter backing, giving them plenty of power when it comes to getting their plans ratified by the Parliament.
And their plans appear to be to attack the gambling industry as a whole.
The dynamic cross benchers are pushing for wholesale industry reform, which clearly has its positives and negatives, but has seen figureheads from the industry and television stations rally in opposition.
The duet has joined with Reverend Tim Costello, of the Alliance for Gambling Reform, and together they are gunning for a raft of changes to the gaming industry, hoping to outlaw sports betting advertisements during G-rated time slots and calling for a $1 limit and capped jackpots on all poker machines in the nation.
They are seeking to implement the recommendations from a 2010 Productivity Commission review and revive the joint parliamentary committee on gambling.
"That blueprint is the immediate introduction of $1 maximum bets with capped jackpots and the transition to mandatory pre-commitment across all machines as well as other measures," Wilkie said.
"So my personal position is we should pick that up."
Xenophon said there was appetite for change among the electorate and it was time for the government to listen.
"So many parents have approached all of us to say they are appalled that their kids are talking about … the odds of the game, rather than the game itself," Senator Xenophon said.
"We're up against an incredibly powerful lobby but it's never too late in a democracy."
He wants the government to "push back and find a consensus to make an appreciable difference to the number of people getting hurt" by problem gambling.
"We need to build a grassroots community campaign and ultimately the people will decide if this is an important enough issue, which I believe it is, given the number of people hurt by gambling over the years, to raise this as an issue in marginal seats because that is ultimately what we need to do," Xenophon added.
Mr. Costello said the prevalence of gambling and its advertising was grooming a generation of addicts.
"Parents stop me in the streets with genuine despair that their kids know the odds better than they know players' numbers and scores," Costello said on radio.
He claimed Prime Minister Malcolm Turnbull told him he supported the proposed $1 betting limits on pokies.
"Malcolm told me about how he personally supports $1 bets, how his electorate supports $1 bets, we made a little video about it," Costello said.
"That was the old Malcolm.
"A lot of the nation wants the old Malcolm back.
"The old Malcolm was very clear in supporting $1 bets.
"I'm appealing to that Malcolm now as Prime Minister, and congratulations for forming government, to actually take a stand against the pokies lobby, knowing with the alliance there is now support."
Wilkie said it was time for politicians to make a stand as he pushed for the reforms, which are essentially a redux of the push that plagued the Gillard government.
"I talk as the father of a seven-year-old and a nine-year-old … I don't want them to watch the footy on a Saturday afternoon or Sunday afternoon because they will be bombarded with advertising," Wilkie said.
"The community knows it's wrong. But the Liberal party and Labor party have refused to act."
Their hopes of change will be met with stiff opposition.
Clubs Australia Executive Director Anthony Ball said that $1 maximum bets had already been rejected by two Parliamentary inquiries.
"The economic, social and employment costs of this policy thought-bubble from Xenophon and Wilkie are even more astounding when you consider that the majority of problem gamblers bet less than $1 per spin," Ball said.
"The Australian Government has previously costed the introduction of $1 maximum bets nationwide at in excess of $1.5 billion.
"There is good reason why the last two Federal Parliaments looked at and promptly rejected $1 maximum bets.
"Nick Xenophon and Andrew Wilkie have set out their priorities for this Parliament, but I doubt they are shared by the Australian people.
"The establishment of another committee on gambling to consider a bad plan that has been rejected multiple times, is a poor use of the Parliament's time."
The television networks have put aside their differences to come out against the plans – mindful of the some $63 million in gambling advertising expenditure that came their way in the first six months of this year.
Seven's head Tim Worner has called the cross benchers' plans "draconian and unnecessary".
Ten's Paul Anderson said free-to-air television was already heavily regulated.
"We take these obligations ­seriously and, as a result, we are not seeing complaints or concern from our audience," Anderson said.
"When we did see real levels of community concern around live odds a couple of years ago, we acted quickly to tighten the rules."
In a show of strength, Nine's boss Hugh Marks also weighed in on the debate.
"Nine is alert to the community standards and will continue to be vigilant and responsible in handling this industry," Marks said
The Australian Wagering Council's chief Ian Fletcher acknowledged advertisers had a responsibility when promoting betting.
A new marketing code for betting ads was installed on July 1, which restricts advertising that targets minors and outlaws advertising during live sports broadcasts.
"We want open discussion on how best to address these concerns," Fletcher said.
Clubs Australia's Ball said a range of evidence-based, cost-effective and targeted solutions to help address problem gambling, such as the world-first Online Multi-Venue Self-Exclusion system, club chaplaincy and counselling services, had already been introduced.
"The industry's ClubSAFE responsible gambling program has also been recognised for its contribution to harm-minimisation measures on the global stage," he said.