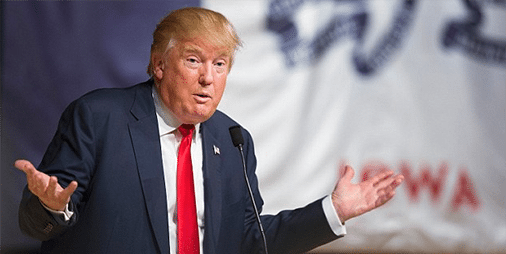 THE US presidential race gets whackier by the minute.
As if there weren't enough people cursing the nomination of Donald Trump as the Republican candidate for leader of the free world, Sportsbet.com.au reports it has been smashed.
The online bookmaker has been forced to pay out a total of $300,000 to punters after Trump won the Republican vote.
There were 568 punters who backed Trump with the bookie sharing in the collect.
Sportsbet's Ben Bulmer reports there was just one bet on Trump at his opening quote of $81 – and that was a $2 wager.
"It's official! Donald Trump has finally been confirmed as the Republican Presidential candidate and while much of the world sheds a tear, there are 568 Sportsbet punters who will be celebrating the news today," Bulmer said.
"When Sportsbet opened the market, Trump was priced at $81 to secure the nomination.
"Only one punter backed Trump at $81, staking just $2 on what appeared at that stage to be the unthinkable.
"Another punter turned $50 into $3,350 after backing Trump to win the nomination at odds of $67, while another will be celebrating today after staking $1000 on Trump at odds of $41."
It would appear that punters have more faith in Trump than does the GOP, which is already reportedly working behind the scenes to prepare for life after 'The Donald'.
Democrat Hillary Clinton is still the favourite to win the election and become President of the United States of America, despite the fact more money is coming for Trump to defeat her.
"With the nomination now locked away, Trump remains a $3 chance to become the next President of the United States, but Hillary Clinton remains the frontrunner at $1.35," Bulmer said.
"Aussie punters aren't convinced and continue to back an upset, with 2.5 times more backing a Trump win than a Clinton victory.
"Sportsbet is currently facing a payout of more than $1.7 million, should Trump win the election, including a $51,000 payout to one punter who staked $1000 on the billionaire at odds of $51."
It's been a bizarre week for Trump, his wife Melania Trump lambasted for allegedly plagiarising parts of Michelle Obama's 2008 speech in her address at the Republican Conference this week.
If you look deeper at Trump's campaign, he has the support of white bigoted voters, but has alienated almost every other race and class in America, leaving the Republican Party with little confidence he can actually pull of a victory.
We're sorry to the punters who have wagered their hard-earned on him, but, for the sake of the world, let's hope those quiet Republicans are right.
US Presidential Election betting
Hillary Clinton ($1.35)
Donald Trump ($3)
Odds provided by sportsbet.com.au
Rudd about to get a leg up of from Malcolm?
They are two men from opposite sides of the political spectrum, but it appears former Labor leader and Prime Minister Kevin Rudd is in the box seat to win support from Liberal PM Malcolm Turnbull as the nation's nominee for the United Nations Secretary General post.
Rudd is now odds-on to win support from Turnbull after having his price slashed from $2 into $1.40 at Sportsbet.
He has won fans in many circles to take over the post from Ban Ki-Moon.
Former diplomat Richard Woolcott says the Federal Cabinet must support Rudd by formally nominating him.
"He is well respected and well known by Xi Jinping, the Chinese head of state," Mr Woolcott said, indicating that Rudd could help with Chinese relations.
"If an Australian decides to stand, the Australian government should support that Australian.
"Certainly there will be opposition from the right of the Liberals, including Abbott, Cory Bernardi and others, but it will be up to Turnbull to work it out and I don't know what the majority of cabinet will decide.
"I think that one of those, sort of loose rules applied is that you have to have the support of your own government (when nominating).
"I was secretary of the foreign affairs department when Rudd worked there, I have done special envoy work for the Rudd government in the Asia Pacific community, and I've never seen any ugly side to Rudd.
"There will be some opposition … but it's important to note the Labor party has supported him, although (Kristina) Keneally said that is something they should not have done."
Ex-Liberal leader Brendan Nelson says Rudd is "tailor-made" for the job.
"We're Australians first, we're Australians last, before the Labor or Liberal branding. I think we have a responsibility to support him," Nelson said.
"He has immense intellect and a deep understanding of international affairs and diplomacy.
"Each of us is tailor-made for some role – I think this is the one for him.
"I've seen him on the international stage. He is stunningly brilliant."
New Zealand's right-wing government has backed former Labor PM Helen Clark and it would be seen as nothing more than a political move for the Liberals not to back Rudd.
Given that, Sportsbet has wound out his odds of not being nominated from $1.75 out to $2.75.
He has also been firmed in the betting to actually replace Moon, from $34 into $21.
As a move to appoint a female secretary general gains momentum, Clark is second favourite at odds of $4 behind Bulgarian Irina Bokova, the $3 favourite.
"Rudd appears more obsessed with getting this role than getting his own back on Gillard and it's hard to bet against him getting the nod from the Government," Sportsbet's Will Byrne said.
UN secretary general betting markets
Will Kevin Rudd be nominated by Australia for UN Secretary General?
Yes ($1.40, in from $2.00)
No ($2.75, out from $1.75)
Next UN Secretary General
Irina Bokova ($3)
Helen Clark ($4)
Vuk Jeremic ($5)
Kristalina Georgieva ($7)
Antonio Guterres ($8)
Danilo Turk ($11)
Vesna Pusic ($13)
Kevin Rudd ($21 in from $34)
Odds provided by Sportsbet.com.au