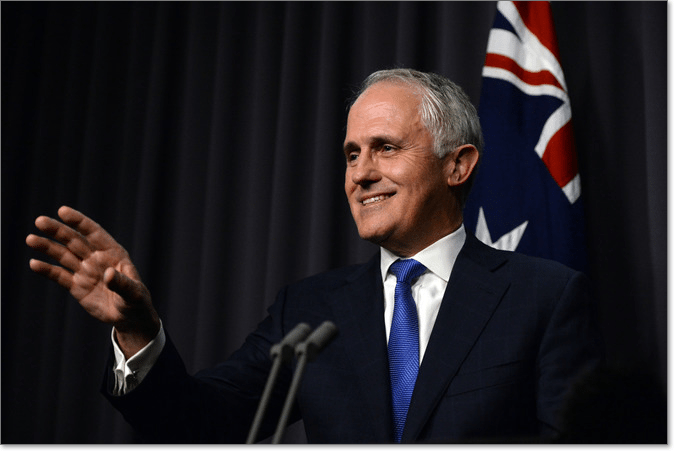 OH, it's on.
When Malcolm Turnbull stuck the knife into incumbent Prime Minister Tony Abbott in September, he was a wildly popular choice for the Liberals and was expected to waltz through the next election.
But that early good will has evaporated quickly and, with the PM all but confirming a July 2 date for the first double dissolution election since 1987, his party is a $1.30 favourite with Sportsbet.com.au, more for the fact Labor has struggled to put up a strong attack.
But Bill Shorten and the red mob are beginning to make head way in the polls and, while they say they don't take any notice of the polls, privately, the Libs would be nervous.
Turnbull, this week, let out the worst kept secret in politics when he said the party was working toward a July 2 battle.
"When we go to election, the Australian people will decide whether there should be an Australian Building and Construction Commission," he said.
"You see, a double dissolution election is about giving the people their say."
The Libs reforms for the Australian Building and Construction Commission (ABCC) were knocked on the head in the Senate for the second time this week, triggering the PM's want for an election, which he said he will ask Governer-General Sir Peter Cosgrove for after the release of the budget in May.
Sportsbet is predicting Sunday, May 8, will be the date Turnbull officially asks Cosgrove to dissolve both houses of parliament, priced as the $3 favourite.
"After the budget, I will advise the Governor-General to dissolve both houses of parliament and I will advise him to call an election on the second of July," Mr Turnbull said.
"The Governor-General will consider that request, that advice, and he will make a decision … and that is why I say I expect there to be an election on the second of July."
He stopped short of outright calling the election and confirming the date, but said it would be "a very good assumption".
The good folk at sportsbet.com.au are clearly election junkies, offering markets on every single seat – all 150 of them.
The bookie's Ben Bulmer said Coalition candidates in 85 seats were favourite, while Labor was ahead in 61.
Minor parties and independents held it down in the remaining four seats.
Adam Bandt ($1.05) is the favourite in Melbourne, Bob Katter ($1.20) in Kennedy, Cathy McGowan ($1.33) in Indi, and Andrew Wilkie ($1.15) in Denison.
Labor's Primary Vote will continue to be its Achilles heel, with Sportsbet predicting a primary vote of 32-33.99 per cent, which is paying $2.70.
But Opposition Leader Bill Shorten said Labor would be ready, whenever the PM decided to make it official, rather than giving voters "weasel words".
"Nine times, including as recently as Sunday, he said this election would be on July 2," Mr Shorten said.
He said Labor had "spent the past 900 plus days" planning for the inevitable poll.
The odds for a hung parliament have been slashed from $8.50 into $4, indicating punters think this thing is going to be very close.
"Malcolm Turnbull will ask the Australian people to vote him back in as Prime Minister less than 300 days after toppling Tony Abbott from the top job," Bulmer said.
"The odds suggest Turnbull will win the election comfortably, but anything can happen during a long 75 day campaign – may the election gaffes begin."
Clive Palmer, fresh off the turmoil surrounding his failed mine, hasn't had any better news for his Palmer United Party, which is expected to win less than 1 per cent of the national vote – 0.00-0.99 per cent is the odds on favourite at $1.50.
In 1987, when we last had a double dissolution election, then prime minister Bob Hawke visited Governor-General Sir Ninian Stephen on June 4 to arrange the calling of an election on, set for July 11, the following day.
He then returned to Parliament, where he and Paul Keating simply destroyed John Howard and his opposition in question time.
They don't make polls like they do back then and, whichever side of politics you stand on, it just feels like the Australian people will be buying a lemon, no matter which way they vote.
Will the public give Turnbull another chance or is it on the change for the sake of change bandwagon?
We will no for sure in a little over 70 days.
2016 Australian Federal Election markets
Sworn In Government
Coalition ($1.30, out from $1.10)
Labor ($3.50, in from $6)
Hung Parliament
No ($1.22)
Yes ($4)
When will Malcolm Turnbull dissolve both houses parliament?
Friday May 6, ($4)
Saturday May 7 ($4)
Sunday May 8 ($3)
Monday May 9 ($7.50)
Tuesday May 10 ($7.50)
Wednesday May 11 ($11)
Malcolm Turnbull does not dissolve both houses parliament ($7)
Labor Primary Vote
Less than 30 per cent ($8)
30-31.99 per cent ($4.50)
33-33.99 per cent ($2.70)
34-35.99 per cent ($3)
36-37.99 per cent ($7.50)
38-39.99 ($15)
Others quoted
Greens Primary Vote
Less than 5 per cent ($21)
5.00-5.99 per cent ($13)
6.00-6.99 per cent ($11)
7.00-7.99 per cent ($7.50)
8.00-8.99 per cent ($4)
9.00-9.99 per cent ($4)
10-10.99 per cent ($6.50)
PUP Primary Vote
0.00-0.99 per cent ($1.50)
1.00-1.99 per cent ($5)
2.00-2.99 per cent ($6)
3.00-3.99 per cent ($16)
4.00 per cent or more ($11)
All odds provided by Sportsbet.com.au